Social Media Signals for Analyst's Downgrades of Nike, Inc.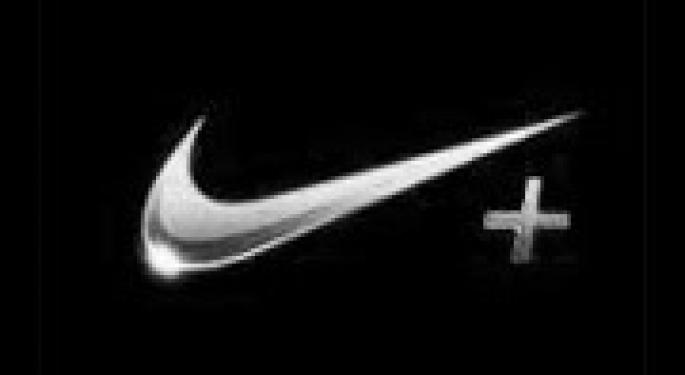 This week, Social Market Analytics (SMA) looks at Nike, Inc. (NYSE: NKE), a designer, developer, and marketer of athletic footwear, apparel, equipment, and accessories for men, women, and children worldwide. During the week of September 10, shares in Nike dropped 3.6% after the stock was downgraded from Buy to Neutral by Citigroup. Analysts expressed concerns that the company's orders could start to slow in reaction to challenging economic environments in China and Europe and unease from consumers that the price of its new Lebron X sneakers could exceed $300, even though the company unveiled the model, during the week, priced at $270. Nike appeared on SMA's morning Flash Report, which identifies stocks, in the pre-market, with extreme sentiment levels that are likely to trade with high activity during the upcoming session. As the week progressed, SMA's sentiment metrics provided early indication of developing, negative price movement. In the pre-market of September 14, our analytics engine identified NKE as a stock with high negative sentiment from the universe of stocks tracked by SMA. SMA's metrics confirmed negative market sentiment for NKE as traders integrated the news of the analyst's actions.
Beginning on September 11, SMA's S-Score for NKE entered a sharp decline from positive levels. In the pre-market of September 13, Nike's S-Score stood at -0.13, a significant fall from 1.45 (Positive) seen two days prior. Nike's stock opened at $99.35, a moderate gap down, and closed the session at a loss of 1.6%. The behavior of SMA's S-Score measures market trading sentiment and can provide actionable signals for upcoming price movement. In the pre-market of September 14, NKE's S-Score fell further to -2.23 (High Negative), coincident with a rise in its S-Volume metric indicating increasing social media activity for the stock. The stock gapped down at the open and continued to sell off to end trading at $96.64, a loss of 2.6% for the day, and down 3.6% net for the week.
Social Media data are noisy and complex. A single metric is insufficient to understand sentiment behavior over time. Our S-Factors are a family of metrics, including volatility, trend and volume measures, designed to provide a complete view of social media signature for each security tracked in SMA's databases. SMA's processing engine continuously updates our S-Factors, capturing overnight and pre-market sentiment activities. Clients receive sentiment reports prior to the U.S. market open and intra-day sentiment estimates for tracked stocks, on-demand. We invite the reader to visit our website; investigate our market sentiment metrics for NKE, other stocks, industry sectors, and market indices; participate in our FAQ forum; and sign up for our Flash Report and Newsletter.
View Comments and Join the Discussion!