Bankruptcy Can Lead Your Returns Even Higher - Case In Point: American Airlines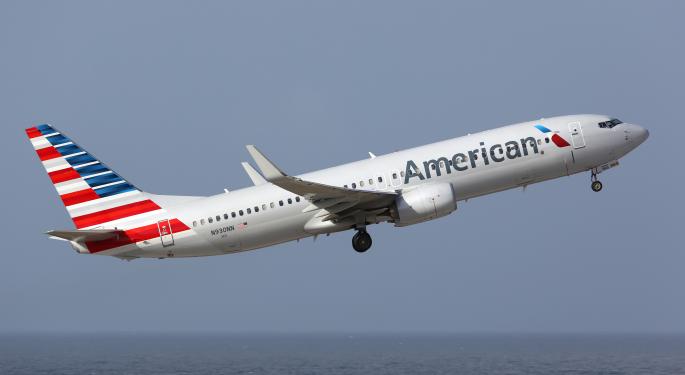 If you were a shareholder of the old American Airlines (NASDAQ: AAL) stock -- formerly listed under the New York Stock Exchange with the ticker AMR -- and dumped your shares in the pink sheets post-bankruptcy, you may not want to read much further.
It would not be such a bitter pill for shareholders to swallow if the old AMR went to zero and went off the books for good. Instead, the shenanigans that took place in the OTC market after the bankruptcy and its merger with U.S. Airways is something that should be under the investigation of SEC.
When a company declares bankruptcy and goes to the pink sheets, it is supposed to be the last hurrah in the issue before it expires worthless. In the case the of AMR, the exact opposite has occurred.
If you weathered the storm from late 2011 through 2013, you may have been able to recoup some of your losses. Of course, there are shareholders that will never see the light of day on the issue.
Related: Microsoft Shrugs Off Browser Issues
American Airlines, which topped out in 1998 at the $170 level, bottomed at $0.5075 on December 7, 2012. Interestingly, American Airlines stayed at this depressed level for the entire year of 2012, all of this taking place while company was pursuing merger possibilities with other carriers.
So what if you had not bought the hype that the company was worthless during this period -- how much would your investment be worth today? Much, much, more. Based on its latest distribution on April 8, each former shareholder of American Airlines would own $0.744 of the new American Airlines.
Here is a breakdown of the distributions:
Date / Distribution

12/9/2013 / 0.0665
1/8/2014 / 0.1319
2/7/2014 / 0.1750
3/9/2014 / 0.1842
4/8/2014 / 0.1864
Total / 0.7440
Based on Tuesday's close of $35.51 for AAL shares, that would indicate that each share of AAMRQ has brought its owner $26.41 in AAL shares, a tidy 132 percent return from the last trading price of AAMRQ on December 6 ($11.39). For investors that dabbled in the issue on the pink sheet and purchased the issue for a penny or less, they would have an astounding return of 2,640 percent.
It should be noted that some large investors realized the hidden value in AAMRQ, as the shares sprinted from the $9.50 level to $11.39 in its final two days of trading in the pink sheets.
So what does this type of trading action really mean? One may conclude that AMR should not have gone bankrupt, that it was preconceived plan by the company or a group of investors to make a lot of money. Going into bankruptcy relieved the company of many its financial obligations and paved the way for another company to capitalize on its fleets, routes and iconic name.
U.S. Airways, which was always considered a second-rate airline, was fortunate enough to engineer this merger and its share price has appreciated 180 percent since the merger was made final.
Finally, when an issue you own goes to the pink sheets, do not be so quick to dump the shares. Keep an eye on the trading activity in the pink sheets; if begins to develop a pattern similar to AAMRQ, it just may be time to buy more instead of sell.
Posted-In: Technicals Intraday Update Trading Ideas Best of Benzinga
View Comments and Join the Discussion!