PreMarket Prep Stock Of The Day: Virgin Galactic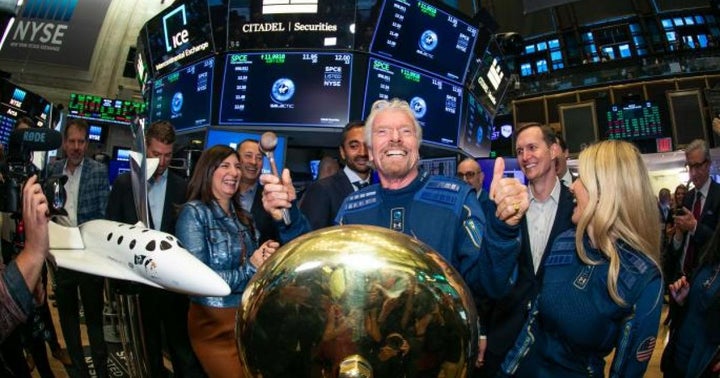 Benzinga's PreMarket Prep airs every morning from 8-9 a.m. ET. During that fast-paced, highly informative hour, traders and investors tune in to get the major news of the day, the catalysts behind those moves and the corresponding price action for the upcoming session.
On any given day, the show will cover at least 20 stocks determined by co-hosts Joel Elconin and Dennis Dick along with producer Spencer Israel.
For those who don't have the time to tune in live or listen to the podcast, Benzinga will highlight one stock that merits further discussion. This analysis is not a buy or sell recommendation.
Even though the PreMarket Prep Show primarily focuses on short- to medium-term trading ideas and setups, we often discuss longer-term investments in the markets.
On Tuesday's show, co-host Dennis Dick stepped way out of his fundamental wheelhouse when he explained why he added Virgin Galactic Holdings Inc (NYSE:SPCE) to his portfolio, making it the PreMarket Prep Stock Of The Day.
What Do They Do? Sir Richard Branson founded the Virgin Group in the 1970s, which consists of more than 400 companies. One of its better-known companies, Virgin Atlantic Airways, laid the foundation for the company Virgin Galactic, which is a spaceflight corporation designed for space tourism.
Out Of This World Price Action: After a sleepy start off its IPO in October 2019, it made an all-time low in November at $6.90 and blasted off. Riding the momentum of the broad market, it reached $42.49 in February and came crashing down with the market in March.
The decline found support in the same area as it had in seven consecutive sessions from $8.80 to $9.30 on Dec. 10 through Dec. 18, when it bottomed out on March 18 at $9.06.
So far, the rebound off that low has been capped at $21.53.
Why The Long-Term Investment Now? Dick provided a few different reasons for his investment in the company.
He emphasized the importance of it being a "trade" that has the potential to turn into a long-term investment. In other words, he has identified a strong technical area of support and has a potential exit point if the issue moves against him. On the other hand, he has no short-term target in place and if it goes his way, he will hold on to it for an undetermined amount of time.
The entire discussion on the issue from today's show can be found here:
Major Support Level: Since May 14, Virgin Galatic has made multiple lows just above and below $15. This signals to Dick that other long-term buyers have targeted this area and will step in to buy or defend the issue on any future declines to that area.
It Has A Story: Dick, who usually bases his long-term investments on fundamentals such as earnings or sales growth, will not hesitate to invest in an issue that has a "story" and has not yet met his fundamental standards.
In his opinion, the company could very well prosper on the heels of technical advancements made by Elon Musk's SpaceX. Since that is not yet public, investors may turn to Virgin Glattic to participate in the race to space. He stated that if the company follows the SpaceX protocol, any successful test launches may be a huge catalyst to its share price.
Dick speculates the company could evolve into something much more than just a human space travel company in the future.
Virgin Galactic visits the New York Stock Exchange to celebrate its listing. Richard Branson rings The First Trade Bell. Photo courtesy of Courtney Crow.
© 2021 Benzinga.com. Benzinga does not provide investment advice. All rights reserved.
---