A New Spin On The Old 60/40 Split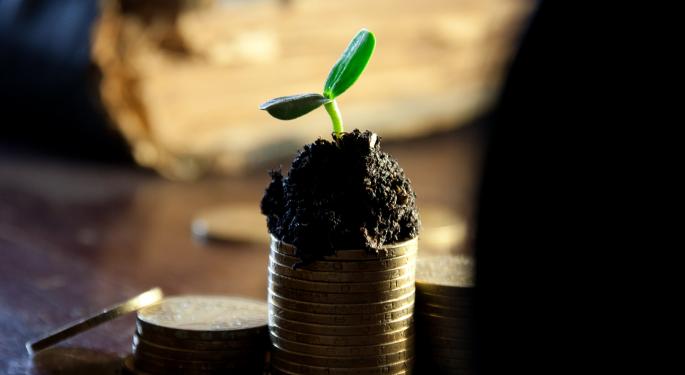 Some of the most traditional financial advice is to be 60 percent allocated to equities and 40 percent allocated to fixed income. A new exchange traded fund brings a fresh look to traditional asset allocation models.
The WisdomTree 90/60 U.S. Balanced Fund (NYSE: NTSX) debuted last week as the second asset allocation ETF in WisdomTree's lineup. The original is the WisdomTree Balanced Income Fund (NYSE: WBAL), which debuted late last year.
What To Know
The new ETF invests in U.S. large-cap stocks and U.S. Treasury futures contracts, but the new ETF starts from a different view than the old school 60/40 equity/bond split.
"The WisdomTree 90/60 U.S. Balanced Fund (NTSX) is created by investing 90% of Fund assets in equities and 10% in short-term fixed income," said WisdomTree. "The 60% bond exposure is achieved by overlaying Treasury futures contracts to achieve the net 90/60 target. Through this higher-efficiency portfolio, investors can devote a smaller percentage of their assets (66.6%) to core holdings while still pursuing their desired exposure."
Why It's Important
NTSX implements non-traditional assets to the traditional 60/40 mix, a methodology that can enhance returns while potentially lowering a portfolio's risk profile.
"In addition to helping potentially boost capital efficiency, we also believe that 90/60 provides investors with the ability to enhance returns with non-core assets such as long/short equities, risk parity, commodity trading advisors or true alternatives," according to WisdomTree. "In other words, by deploying an overlay strategy to boost capital efficiency, a 90/60 strategy has the potential to enhance total returns while also helping to dampen volatility via alternatives."
If NTSX deviates from the desired 90 percent equity/60 percent fixed income mix by 5 percent, WisdomTree will rebalance the fund back to the original allocations.
What's Next
The NTSX equity allocation is comparable to the S&P 500 with the largest sector exposures being technology, financial services and health care.
"NTSX offers a new and disruptive approach to asset allocation, which has traditionally been through 60/40 equity/bond portfolios that tend to be highly correlated to the equity market," said Jeremy Schwartz, WisdomTree Director of Research. "In contrast to these more traditional portfolios, NTSX seeks to provide a more efficient way for investors to deploy their capital, resulting in the potential for enhanced total returns, reduced volatility and increased tax efficiency."
NTSX's annual fee is 0.20 percent, or $20 on a $10,000 investment.
Related Links:
More Leveraged FAANG ETNs Arrive
Posted-In: WisdomTreeLong Ideas Specialty ETFs New ETFs Top Stories Trading Ideas ETFs Best of Benzinga
View Comments and Join the Discussion!