A Familiar ETF For The E-Commerce Boom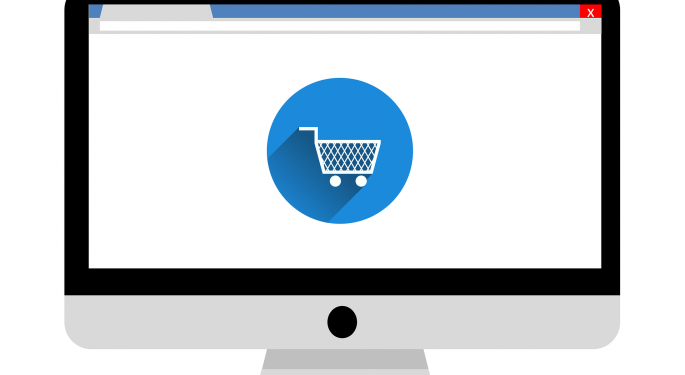 Shoppers are gravitating toward online outlets over traditional brick-and-mortar retailers. Recent data confirm as much. This year, Black Friday sales for brick-and-mortar retailers came in around $5 billion, but Cyber Monday sales reached a staggering $6.6 billion.
Various exchange traded funds are levered to the themes of growing e-commerce sales and the declines of traditional retailers. A familiar fund could be a valuable asset in playing the ongoing e-commerce boom. Although the PowerShares QQQ (NASDAQ: QQQ), the Nasdaq-100 tracking ETF, is thought of as a technology fund in disguise, it features ample consumer exposure as well.
QQQ's technology weight is 60.5 percent, but its second-largest sector exposure is consumer discretionary at 21.1 percent. E-commerce king Amazon.com Inc. (NASDAQ: AMZN) is QQQ's third-largest holding at a weight of almost 7.8 percent.
Rethinking E-Commerce Exposure
To many investors, Amazon is the e-commerce king, but other well-known QQQ components fit the bill as e-commerce purveyors as well, including Netflix, Inc. (NASDAQ: NFLX) and Priceline.com Inc. (NASDAQ: PCLN).
"Although many think of the Nasdaq-100 Index as a technology index, we believe it is better described as a group of innovative companies that implement technology to create competitive advantages," PowerShares said in a recent note. "The Nasdaq-100's three largest retail holdings — Amazon, Priceline and Netflix — have been enormously successful integrating technology to boost their bottom lines."
Amazon, Netflix and Priceline combine for about 10 percent of QQQ's consumer discretionary exposure.
"Nasdaq-100 Index retailers have generated higher annualized three-year growth rates across sales, net income and number of employees than retailers listed on the S&P 500 Index," according to PowerShares.
Going For Growth
This year's Black Friday/Cyber Monday comparison underscores the point that investors need to be selective when considering retail stocks and related ETFs. Growth needs to be the priority.
"On average, retailers within the Nasdaq-100 Index have generated 174 percent higher growth rates for these three metrics than have retailers within the S&P 500 Index over the past three years," said PowerShares. "In turn, the market has rewarded this group of retailing stocks with solid year-to-date returns. The Nasdaq-100's retail stocks have returned 41.9 percent through Nov. 24, while S&P 500 Index retailers have returned 24.3 percent over this same time period."
Related Links:
View Comments and Join the Discussion!
Posted-In: Long Ideas Broad U.S. Equity ETFs Top Stories Tech Trading Ideas ETFs Best of Benzinga