How To Trade The Ides Of March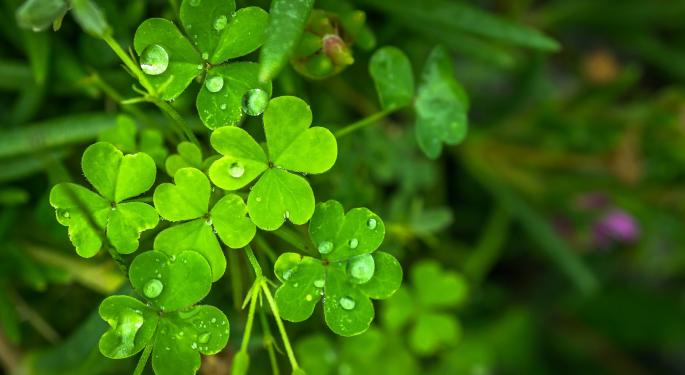 The Ides of March is a day on the Roman calendar that corresponds to March 15. The day has developed a negative association due to events that occurred on this day over the years — including the assassination of Julius Caesar in 44 B.C.
Sordid Political Tale
The French raid of southern England occurred on this day in 1360, when French men went about a rape, murder and plundering spree over a period of 48 hours. In 1889, a cyclone that lashed Samoa on March 15 wrecked three German and three American warships. On March 15, 1939, the Nazis occupied Czechoslovakia.
The Shakespearean drama "Julius Caesar" made the day notorious with a saying: "Beware the ides of March." With the day markedly negative in the political arena, Benzinga looked at how this day and the following week have historically treated traders.
The performance of the S&P 500 was taken as a proxy for the market, given its broader representation.
Ides of March & Market's March
The percent change on the Ides of March* and percent change in five sessions following the Ides of March:
2016 -0.18 +1.68
2015 +1.35 +1.12
2014 +0.96 -0.08
2013 -0.16 -0.24
2012 +0.60 -0.70
2011 -1.12 +0.93
2010 +0.05 +1.33
2009 +0.35 +8.77
2008 -0.90 +5.98
2017 +0.37 +3.04
* For those years, when March 15 fell on a weekend, the following session was calculated for performance.
While it may not be a historically lucky day, it's clear the Ides of March doesn't have a ripple effect in the market. Over the last 10 years, the S&P clocked average gains of 0.13 percent on this date.
On an annual basis, the S&P 500 Index returned 11.96 percent in 2016, 1.28 percent in 2015 and 13.69 percent in 2014.
Taking the month of March alone, the S&P 500 Index returned +6.60 percent in 2016, (-1.74) percent in 2015, +0.69 percent in 2014 and +3.60 percent in 2013.
However, performance over the next five sessions following March 15 was markedly better, with an average gain of 2.18 percent. Prior to 2010, the five-session period had standout gains, although in recent years, the showing has been mixed.
Experts See Performance Loaded On The Front End In March
Almanac Trader Jeff Hirsch sees March's performance as tempestuous, with stocks rallying early in the month and getting battered at month-end. Reasoning that quadruple witching and end-of the quarter considerations bring volatility in March, Hirsch said the month is a reasonably better-performing one. Post-election year payments to the Piper take a toll in March, Hirsch said, as average gains are trimmed significantly.
Related:
No Ides Of March For These Sector ETFs...Maybe
Posted-In: Ides Of MarchLong Ideas Education Trading Ideas General
View Comments and Join the Discussion!