What's Next For Nvidia?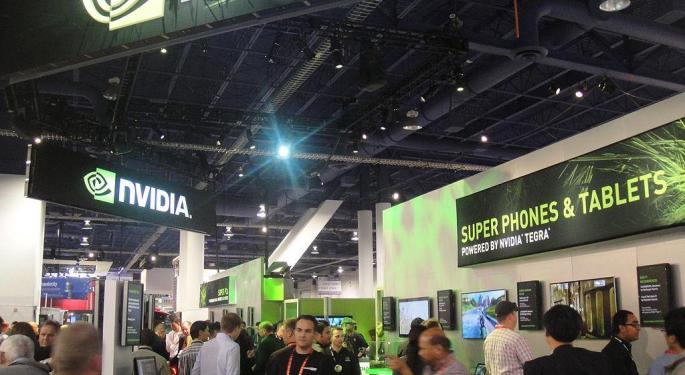 It was a rough week for Nvidia Corporation (NASDAQ: NVDA), one of the top performing issues in the S&P 500 index in 2016. Last year, the issue ran up 224 percent from its 2015 year-end close ($32.96) to $106.74.
Bad Week
Per its 2016 style, the issue began last week with a nearly $4 gain, rallying from it's previous close ($107.23) to $111.07. After maintaining that level on Wednesday, all hell broke loose after the close.
That's when Nomura downgraded the stock from Buy to Reduce and announced a $90 price target, well below its closing price of $110.76. Aggressive short sellers and others that were long the issue hit the exit button.
In thin after-hours trading, the issue declined from $110.76 to $108.30 by the conclusion of after-hours trading at the 8:00 p.m. EST.
That was just the tip of the iceberg.
Before Thursday's open, BMO Capital downgraded the stock from Market Perform to Underperform with an $85 target. Although these are respected Wall Street firms, they certainly don't carry the same weight with their ratings as a Goldman Sachs, JP Morgan or Bank Of America.
In fact, PreMarket Prep co-host Dennis Dick said on the show he was amazed on how these mid-tier Wall Street firms could have such an impact on as heavily traded issue as Nvidia. He couldn't recall a bigger move in either direction with the catalyst being a double upgrade or downgrade from Wall Street analysts.
See Also: As Nvidia Catches A Pair Of Downgrades, Attention Turns To AMD
Share Movement
Short-sellers seized on the negative news and had Nvidia trading lower by nearly $5.00 in the $105.00 handle by Thursday's open. When the buy the dippers nudged the issue to no further than $106.39, the floodgates opened and panic-selling ensued.
It was able to find intra-day support at $99.68 and managed to close in triple digits at $100.49. The combination of S&P 500 index futures opening deep into the red and another round of sellers attempting to lock in profits instigated a nosedive off Friday's open.
The selling crescendo ended in the first minute of the session, when it bottomed at $95.70 and began to rebound. That low is below its December 15 low ($96.60), but well above its December 14 low ($91.57).
As the rebound rally was in motion, it was aided by a tweet from well-known short seller, Andrew Left of Citron Research, who disclosed he had covered his short position. That put the Nvidia bulls back in control for the interim and the issue continued to make new highs for the session, closing the week at $101.46.
Not all of Wall Street has turned sour on the issue.
Highly Valued
Tigress analyst Ivan Feinseth told Benzinga Nvidia shares are "highly valued" not "overvalued" — as the company's fundamentals remain strong. Tigress has a Buy rating on the stock.
"It is trading at a premium because it's anticipating a company that will grow into a concept," Feinseth said. "The chips that they made for video will evolve into chips that will be used in processing data for artificial intelligence."
It's certainly hard to argue against the fundamentals of the company as they bested Wall Street estimates EPS estimates in each of last 19 quarters dating back to Q2 of 2012; It beat Wall Street estimates for revenues in all but one of those quarters. Over that period of time, the company has doubled revenues from $1.01 billion to $2.173 billion.
What's Next?
So what's the next for shareholders of Nvidia? Many technicians will be focusing on whether or not the issue can recoup at least of half (50 percent retracement) of its losses from it current slide. Interestingly, its all-time high was made the day following its Q4 beat on February 10, when it peaked at $120.70.
Based on the Friday's low holding ($95.70), the 50 percent retracement of the move comes in at $108.20, which comes in between its February 23 high ($106.39) and February 22 close ($110.76). If in fact it can reach and hold that level, Nvidia may indeed be heading for a test of its all-time high.
However, if the issue breaches Friday's low, there may be limited support until the pair of lows from December 13 ($90.05) and December 14 ($91.57). If that occurs, technicians again will be calculating the new 50 percent in order to determine if the current price action is a pause in its massive rally or is signaling a change in trend for the issue.
Image Credit: By The Conmunity - Pop Culture Geek from Los Angeles, CA, USA - CES 2012 - NVIDIA, CC BY 2.0, via Wikimedia Commons
Posted-In: Long Ideas Short Sellers Short Ideas Technicals Opinion Top Stories Tech Trading Ideas Best of Benzinga
View Comments and Join the Discussion!