Is Volkswagen's Scandal All That Different From Past Auto Fails?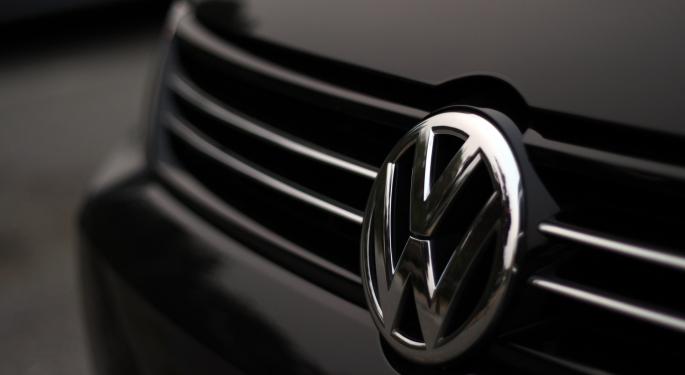 Volkswagen AG (ADR) (OTC: VLKAY) is currently embroiled in a scandal regarding software that the German carmaker used to trick emissions tests into believing that the cars were more environmentally friendly than they really were.
The ordeal has pummeled Volkswagen shares and has done major damage to the firm's reputation, but some investors are wondering if the scandal is really as bad as the market has made it out to be. Volkswagen shares are trading at all-time lows, making it a possible play for contrarians who expect the company to clean up its mess and return to business as usual.
These expectations are founded upon the rebounding success of peers such as General Motors Company (NYSE: GM) and Toyota Motor Corp (ADR) (NYSE: TM), who suffered similar turmoil in the past.
Related Link: 8 Things Everyone Wants To Know About The Volkswagen Scandal
However, others say that the Volkswagen scandal represents a much larger fall from grace, and the firm will struggle to pick itself up when all's said and done.
Auto Woes
Toyota and General Motors also faced regulatory issues when their vehicles turned out to have malfunctioning components that put drivers at risk.
For General Motors, it was faulty ignition switches that sometimes disabled airbags and interfered with steering. In Toyota's case, it was an acceleration issue that led some cars to speed up uncontrollably due to the placement of drivers' floor mats.
In both of those scandals, the cars were deemed directly responsible for fatal accidents, something Volkswagen has avoided so far. For that reason, many believe Volkswagen's emissions problems won't have a detrimental effect on the company over the long term, as both Toyota and General Motors were able to regain consumer trust even when the safety of their products was in question.
CEO Issues
However, unlike both Toyota and General Motors, Volkswagen lost its CEO when the scandal came to light.
Shortly after the emissions glitch was discovered, CEO Martin Winterkorn resigned. Many investors say this suggests that the cheating emissions sensors were company-wide knowledge.
Toyota CEO Akio Toyoda was able to power through the firm's massive recalls and Mary Barra remains at the helm of General Motors as well. So why was Winterkorn so quick to jump ship?
One of the reasons was likely the time each CEO had spent at the top. Both Barra and Toyoda were relatively new to their positions, so the scandals appeared to fall into their laps without prior knowledge. As he had spent 8 years at the top, most anticipate that Winterkorn had knowledge of what was going on with the emissions sensors.
Gaining Public Trust
One of the key factors that will determine whether Volkswagen can emerge from this scandal is consumer opinion. Both Toyota and General Motors were able to regain drivers' trust despite the fact that their cars may have put lives in danger.
For Volkswagen, the environmental repercussions are upsetting, but the company's mistake hasn't lead to any fatal accidents. With that in mind, it may seem like a foregone conclusion that Volkswagen can bounce back if both Toyota and General Motors were able to, but some analysts say it's not that simple.
Volkswagen's scandal is believed to involve a great deal of deception, something that the public may not soon forget. Following investigations into Toyota and General Motors, both firms appeared willing and eager to fix the issues, something that went a long way in the public eye.
A YouGov Brandindex report showed that public opinion of Volkswagen fell much further than that of Toyota in the first few days following each company's scandal. That suggests that so far, Volkswagen's damage control has been sub-par. A lot of whether VW can recover will depend on the firm's response moving forward and whether the carmaker can convince the public that it has implemented a new system to prevent such an issue from happening again.
Related Link: The Palladium ETF Is The Ultimate Volkswagen Victor
Fines
Another worry for investors has been the regulatory fees that Volkswagen is likely to face. Of all three scandals, the Volkswagen issue is expected to rack up the largest bill. The Environmental Protection Agency has the ability to charge up to $37,500 per affected vehicle, bringing the possible total up to $18 billion.
While most expect that the EPA won't charge the full amount, the total is almost sure to exceed the $900 million that General Motors paid and the $1.3 billion that Toyota was charged.
Should You Take A Chance?
At the peak of Toyota's scandal, the company's shares lost around 20 percent in just 15 days, bringing the price down to $72. Now, years later, Toyota is trading around $123. Since General Motor's ignition switch issues hit the news in 2014, the company's stock has risen nearly 10 percent, with many expecting to see further growth now that the firm's ordeal has been dealt with.
However, it's unclear what will happen to Volkswagen shares. In the month following news of the scandal, the company's shares have lost around 25 percent. Some analysts believe that the costs Volkswagen is likely to suffer have been overstated and that the firm is severely undervalued at the moment, even after the emissions scandal has been priced in.
For investors with a healthy appetite for risk, buying now before the costs of the scandal become clear to the wider market could be a lucrative investment; but as the company is still buried deep in uncertainty, there is the potential for loss of capital.
Image Credit: Public Domain
Posted-In: Akio Toyoda emissions Environmental Protection Agency EPALong Ideas News Markets Trading Ideas Best of Benzinga
View Comments and Join the Discussion!