The Case Against: RadioShack (RSH)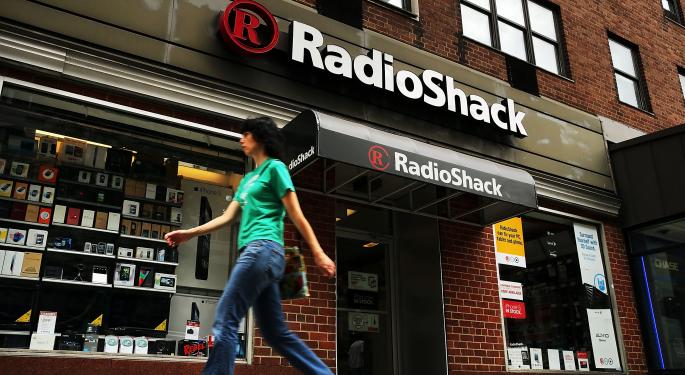 The case against is a recurring opinion piece/analysis of why a company or other business venture or enterprise is not likely to make it in the long-term. All opinions are the authors and are not a recommendation to buy or sell any stocks, bonds or other financial instruments.
RadioShack (NYSE: RSH) once had a niche in selling cables, connectors and other miscellaneous doo-dads that were hard to find elsewhere.
By being convenient and having some relatively unique merchandise, the chain got away with high prices. In the late 80s through the early 90s, RadioShack thrived on its convenient locations and the basic fact that other stores may have cheaper coax cables or computer accessories, but most consumers were not likely to forego convenience for a relatively small savings.
Fast forward to the present day and the giant shadow of Amazon (NASDAQ: AMZN) (and countless other less successful websites) has made the RadioShack pricing proposition ridiculous. Whereas RadioShack used to be slightly higher than its competitors, it is not incredibly more expensive on many common items.
Take something simple, like an Apple (NASDAQ: AAPL) iPhone charger, RadioShack generally has them for $29.99 while Amazon has them for under $5. Yes, you have to wait for shipping on Amazon (and, if you're not a Prime member pay for shipping unless you spend $25) but, most people will wait a few days to save around $25.
This scenario can be repeated across pretty much every convenience item RadioShack sells. Needs a TV mount? How about some network cable? If you buy them online, you'll save not just a small amount, but usually at least 200 percent and often more.
This has left RadioShack as a store that caters to people who need whatever it is they need immediately. There is, of course, some amount of customers that will pay any price for immediate satisfaction, but, not enough to build a business off of.
Aside from convenience on accessories, RadioShack has precious little to offer. Sure they have cell phones, but in that area they compete against the carrier stores, Best Buy and a variety of specialty store.
RadioShack, as it's currently constituted will bleed to death as it loses any customers who aren't wildly impulsive or too dumb to care about being ripped off.
As a stock play, I would be wary as current management has shown little ability or willingness to make meaningful changes to pricing or focus. The chain does have an impressive retail footprint, with smaller, cheaper stores than other electronics retailers, but, short of Amazon buying RadioShack – something the online retailer has not even hinted at – the future for RadioShack appears bleak.
Daniel B. Kline is a Benzinga contributor who can be reached at dan(at)notastep(dot)com
Posted-In: Long Ideas Short Ideas Tech Trading Ideas Best of Benzinga
View Comments and Join the Discussion!