A Brazil ETF With Some Promise?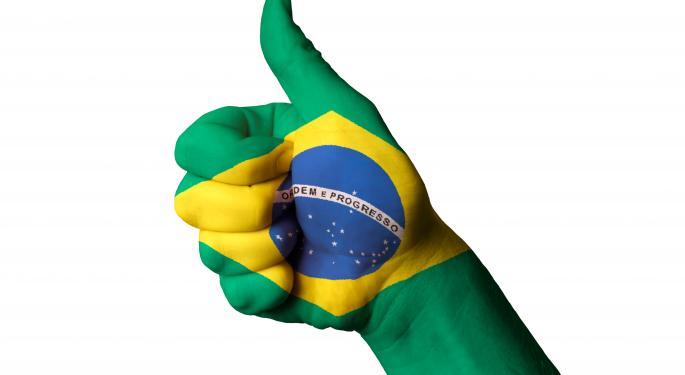 That headline is phrased in the form of a question because times are tough for Brazil ETFs.
That much has been well-documented in recent weeks. A 1.6 percent gain on Friday was still not enough to turn the iShares MSCI Brazil Capped Index Fund (NYSE: EWZ) positive for the week, but that pop did reduce EWZ's year-to-date loss to about five percent.
Still, has problems, plenty of them in fact. Namely, the struggles of Petrobras (NYSE: PBR) and Vale (NYSE: VALE), the ETF's two largest holdings. With that in mind, investors looking for exposure should probably steer clear of EWZ in the near-term.
The EGShares Brazil Infrastructure ETF (NYSE: BRXX) does have a 5.7 percent weight to Vale, but even with that, BRXX potentially holds promise for investors. Emphasis on "potentially." On nearly double its average daily volume, BRXX gained 1.5 percent Friday, trimming its year-to-date loss to just 1.2 percent in the process.
To be sure, BRXX, like its Brazil ETF brethren, has a legacy of frustrating investors. In August, the Brazilian government announced a $66 billion infrastructure program aimed at boosting the economy while preparing the country for the 2014 World Cup and the 2016 Summer Olympics. Since August 14, BRXX is down more than five percent.
Still, some notable investors see opportunities in Brazil. In recent blog post, famed emerging markets investors Mark Mobius of Franklin Templeton Investments highlighted his recent visit to Recife in Brazil's northeast Pernambuco state.
"Recife will be one of the 12 cities playing host to the 2014 FIFA World Cup Brazil, so many were also hard at work on infrastructure and construction projects there," said Mobius. Mobius and his team visited some burgeoning projects in Recife.
"We also visited the enormous 13,500 hectare construction project in the Port area, which includes an oil refinery and petrochemical complex in addition to many subsidiary and supporting industrial projects," he said. "Construction began in 2006 and is still not yet complete. From our bird's eye view of the enormous construction site, we saw lots of activity, but completion this year seems ambitious given how much remains to be done."
It is just one man's view, but Mobius is one of the more astute emerging markets investors around and it certainly goes without saying infrastructure spending is going to be a significant part of Brazil's domestic economy over the next several years.
On the other hand, BRXX's track record cannot be ignored. The ETF is up less than three percent since its February 2010 debut. By the time BRXX debuted, investors already knew that Brazil would be hosting the aforementioned global sporting events.
In theory, BRXX should be the ideal way with which to play the obvious theme of necessary Brazilian infrastructure largess. Maybe the ETF will eventually deliver on that front, but it has not yet done so.
Another issue to consider with BRXX is the ETF's utilities exposure, which is nearly a third of the fund's weight. As if investors' treatment of Petrobras and Vale is not bad enough, Brazilian utilities have been savagely repudiated this year.
Like Petrobras and Vale, Brazilian utilities are being adversely impacted by government policies. Recently, the government forced utilities to either cut power prices or return contracts to be re-auctioned when they're completed, Bloomberg reported.
As for BRXX, patient investors will like the 5.62 percent index dividend yield, though chart-watchers will want to see this ETF hold above $21 for a few sessions before pulling the trigger.
For more on ETFs, click here.
Posted-In: Long Ideas News Sector ETFs Short Ideas Emerging Market ETFs Technicals Events Global Best of Benzinga
View Comments and Join the Discussion!