Look Out Old School Channels, The Internet Networks are Here!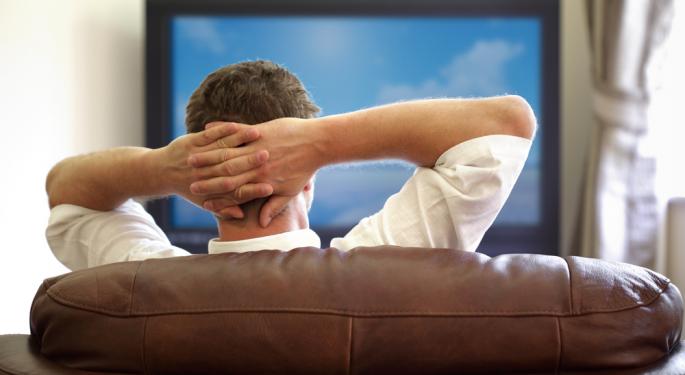 Original programming isn't just for network television or cable anymore! Internet streamer, Netflix (NASDAQ: NFLX) now has a hit original series, House of Cards. According to estimates, the company spent as much as $50 million on the first 13 episodes.
Amazon (NASDAQ: AMZN) is taking a slightly different approach with original programming, opting, instead, to launch a small studio to lure newcomers and existing talent. Speaking of which, is John Goodman "talent" enough? Deadline Hollywood reports that Goodman will star in one of AmazonStudio's six new comedy pilots, called Alpha House about four senators who live together in a rented house in D.C.
With this kind of action going on can other Internet streamers be far behind?
Technically, YouTube, a subsidiary of Google (NASDAQ: GOOG) has always been all about original (albeit amateur) programming, but don't kid yourself. Millions of hits and millions of attached ads stand for something.
According to Econsultancy.com, under Google's umbrella, YouTube usage is up. The company has cut deals with many of the same content creators that once threatened to put it out of business, and with the addition of hundreds of "channels" to the mix, more serious programming is on the way.
Last year, Google's YouTube chief, Salar Kamangar, told attendees at the Reuters Media and Technology Summit that subscriptions were top-of-mind. "We don't have anything to announce now [but] it is something that's really important to a lot of our top existing content creators as well as ones that aren't on YouTube today, so we're taking very seriously and we're thinking about it very carefully."
Hulu, part of NBC Universal/Comcast (NASDAQ: CMCSA), has been producing original programming since 2011. Series include The Morning After, A Day in the Life, Battleground, Spoilers, and a new offering titled Up to Speed.
The question of the day is, as always, are the big boys paying attention? You bet they are!
The Hollywood Reporter acknowledges that Netflix's House of Cards remains a hot topic among television executives nearly a month after all 13 episodes saw a simultaneous premiere.
"I appreciate Netflix did it. It's a showy thing to do, but I'm not sure it is the best way to keep the viewer emotionally engaged," said HBO programming president Michael Lombardo." Despite the obvious brushoff, if HBO, which is owned by media giant Time Warner, Inc. (NYSE: TWX), is discussing anything going on at Netflix, the conversation is relevant.
Lombardo all but dismissed the possibility of releasing an entire season of any of his shows in one outing. "Our hope is Game of Thrones becomes a Sunday expectation," he said. "We want to drive viewers to a night."
That's fine, if it's what viewers want. If not, well … look out cable!
Posted-In: Comcast Corporation Google Time Warner YouTubeLong Ideas News Events Trading Ideas Best of Benzinga
View Comments and Join the Discussion!