Can Spotify Take On Apple? It Will At Least Try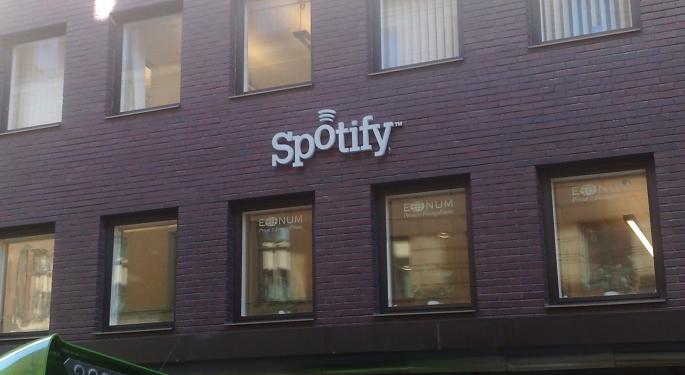 Spotify, the popular streaming music platform that may never become profitable, isn't going to go down without a fight and is planning on taking on the tech behemoth Apple Inc. (NASDAQ: AAPL), Bloomberg reported.
Spotify will begin promoting podcasts it offers such as "Pod Save America" both inside the Spotify app and through ads on buses. By allocating more cash toward promoting its podcasts, Spotify would be diversifying its business away from music in which royalties to the music owners account for more than 75 percent of its costs.
But focusing on podcasts means Spotify would be competing against Apple — a leader in the podcasts with a market share estimated at 55 percent. Although Apple once held a 70 percent market share, its current status still means it is bigger than everyone else combined.
Nevertheless, Spotify boasts 140 million users, 50 million of whom pay a monthly subscriber fee. As such it already has a huge audience available that may be attracted to a new lineup of original podcasts in the coming months, Bloomberg added.
Spotify is also expected to add a new podcast tab in its app but is still working on a game-plan so it can implement a consistent strategy moving forward.
"It doesn't seem like there's a concentrated, thought out strategy,'' Nick Quah, author of the weekly newsletter "Hot Pod," told Bloomberg. "They are juggling a lot of things as a company, and podcasting is an interesting, experimental channel for them.''
On the other hand, Spotify does have the "potential to do a lot for podcast," Quah added. All it would take to succeed would be a "few tweaks here and there" so that pod-casting can succeed "in the foreground for the daily listeners."
Related Links:
Will Spotify Stream Into An IPO In 2017?
Earth To Elon: Musk Wants To Conquer Music And The Ways It's Delivered
_______
Image Credit: By Erik Stattin - Spotify HQUploaded by Ainali, CC BY-SA 2.0, via Wikimedia Commons
Posted-In: Nick Quah podcasts SpotifyTop Stories Tech Media Trading Ideas General Best of Benzinga
View Comments and Join the Discussion!