Is ESPN's Next Move Another Nail In Cable TV's Coffin?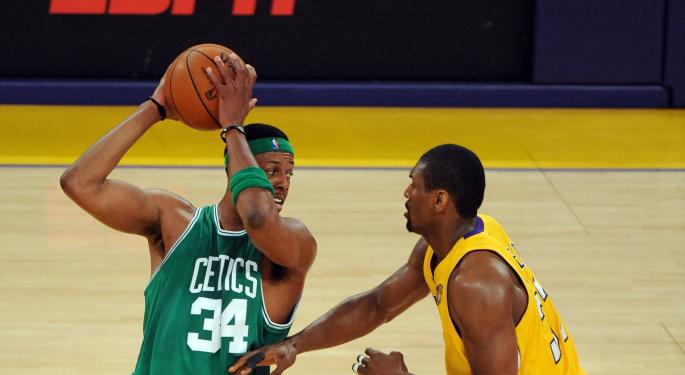 ESPN is one of a dozen channels coming to Sling TV, a new live streaming service from DISH Network Corp (NASDAQ: DISH).
Walt Disney Co (NYSE: DIS) will also bring ESPN@, ABC Family and the Disney Channel to the service.
USA Network (the second-biggest cable network) has not yet signed on to Sling TV, but subscribers will be able to watch TBS (No. 6 among cable networks).
AMC Networks Inc (NASDAQ: AMCX), which produces "The Walking Dead" (a show so popular it regularly beats Sunday Night Football), is also absent from the Sling TV launch lineup.
Regardless, if consumers are eager to cut the cord, this is yet another way to facilitate that transition. But is it really something the cable industry has to worry about?
"Twenty dollars a month for something that seems to be incremental to a TV package is priced a bit high," Albert Fried & Company analyst Rich Tullo told Benzinga. "It's probably going to be relegated to where they have rights already. So it's interesting, but they're talking about being evolutionary and they think it's a step towards an IP TV platform."
Related Link: Most Netflix Subscribers Still Pay For Cable, Satellite Service
Tullo is a big supporter of an a la carte pay-TV system, but he is concerned that consumers will ultimately pay more to get the same number of channels they have now. Marc Berman, editor in chief of TV Media Insights, shares that concern.
"If viewers start ordering things ad hoc, it's going to start adding up and you're going to pay more than you're already paying to get your basic cable service," Berman told Benzinga. "That's the issue with these options. People look to save money and they want the same information, they want the same availability. It's going to add up to more than what you're currently spending."
The exception would be if a pay-TV provider offered different options and/or additional content that made a streaming or a la carte option more worthwhile.
"But these are just offerings that are only going to ultimately increase everybody's bill in the long run," said Berman.
One of the biggest reasons I still have cable is because of ESPN and other sports channels. The dominoes are falling.

— Brian J. Manzullo (@BrianManzullo) January 5, 2015
Be Careful What You Wish For
Berman also stressed the point that while there are only a few shows he currently watches, there may be others he wants to watch in the future. If he subscribed to all of his favorite networks individually, he would not be able to investigate other networks -- and discover other great content -- without paying more.
"When you start ad hoc choosing, you're getting what you think you want but you may not get everything," he said. "I don't think anything [Sling TV is] offering right now is so unusual that, 'Wow, I'm going to drop what I have and get this.'"
Internet Costs Could Soar
Many pay-TV providers also offer broadband Internet access. If consumers cut the cord, these companies could respond by charging more for broadband. Many of them are already doing this in exchange for larger data caps and/or faster download speeds.
"How they do that is, if you're consuming that much TV over your broadband connection, and as we get into ultra-high definition, you're going to want a more robust broadband connection to support that," said Tullo.
Bigger Threat To Cable
Cable's biggest threat might be hiding right under its nose.
"The fact is that Dish has 14 million subscribers and DirecTV has 24 million subscribers," said Tullo. "They're already the biggest threat to cable."
Disclosure: At the time of this writing, Louis Bedigian had no position in the equities mentioned in this report.
Posted-In: ABC Family disney Disney Channel ESPN ESPN2Top Stories Exclusives Tech Best of Benzinga
View Comments and Join the Discussion!