Why Tesla Opened Its Patents To The Public & How It May Help The Stock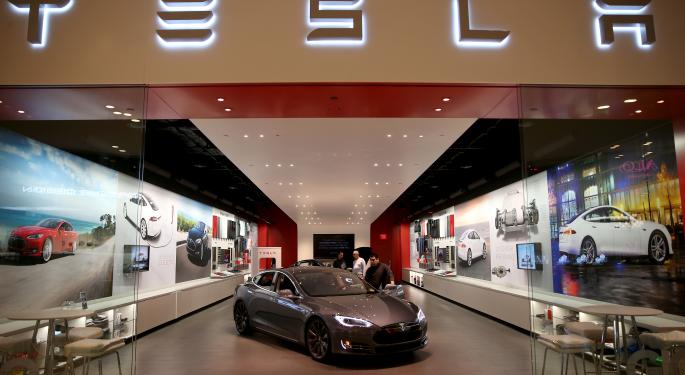 Tesla (NASDAQ: TSLA) reignited investor interest last week when CEO Elon Musk said he is opening Tesla's patents to the world.
Along with benevolence, there may be business motives behind Tesla's action.
Battery Sales
Tesla's most acclaimed innovation is its batteries. According to the Department of Energy, the Model S can travel 150 percent further on a charge than the second-longest range electric vehicle. Because the technology so far outpaces its rivals, it makes sense that other automakers would copy the battery.
Tesla will soon begin construction of its Gigafactory to produce batteries. This facility will be so massive that it is expected to double lithium battery production for the entire world. Due to scale, it is likely Tesla will be able to produce these batteries cheaper than existing manufacturers.
Related Link: Why Tesla Is Up Over 8%
Connecting the dots, if other car producers build vehicles based on Tesla's battery technology, Tesla could sell batteries to the entire world. The margins on this product could be massive: Tesla believes it can cut the cost it spends to procure batteries by 30 percent with the factory, making the idea of margins at or greater than 20 percent very realistic. Additional scale could push this figure even higher.
A standard electric vehicle battery could also make seamless use of Tesla's supercharger network by other companies' vehicles. Not only could Tesla charge other brand users for a "fill up," but the expansive supercharger network already in place could pressure other carmakers to buy batteries from Tesla to give its drivers additional access.
Collaborations
Investors and fanatics on Sunday became aware that BMW and Nissan (OTC: NSANY) may be in talks with Tesla to work together on charging networks, as reported by the Financial Times.
If Tesla's patents are opened up to the public, cross-company collaboration is likely. Tesla's growth shows that up to this point, it is a smart company with a smart plan. One of the greatest advantages its competitors have are greater financial resources. If Tesla does not have to worry about hiding its intellectual property, it could use resources from a multitude of companies to execute its plan.
Related: 10 Top Stocks Under $10 Right Now
Technology Change
Tesla could be sharing its technology because it has innovative developments underway, rendering the old technology useless. Competitors, for example, may be left chasing old technology while Tesla is able to show its customers it is constantly innovating.
Investor Reaction
Regardless of the reason, investors like the announcement. Shares of the automaker are up 14.25 percent since last Thursday, when Musk published the announcement.
Other developments that are helping to boost the share price include the alleged collaboration with BMW and Nissan and New York Gov. Andrew Cuomo allowing the five New York dealerships to remain in place.
Shares of Tesla last traded at $234.44, up 4.38 percent on the day.
Posted-In: electric car Elon Musk GigafactoryTech Trading Ideas Best of Benzinga
View Comments and Join the Discussion!