Rick Snyder And Mike Duggan Stand Behind JP Morgan's Commitment To Detroit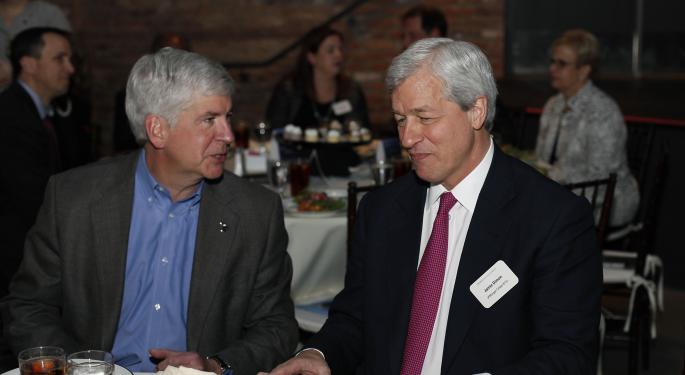 JPMorgan Chase (NYSE: JPM) electrified Detroit on Wednesday when CEO Jamie Dimon announced the company's $100 million investment in the city.
The money will be used to offer capital to support small businesses, train the workforce, fight blight and several other initiatives. Governor Rick Snyder and Mayor Mike Duggan praised the initiative.
Governor Snyder started by explaining how the investment will help a four member family.
By reducing blight, children will be safer walking to and from school. The technical training will enable parents to have stable, well paying jobs. Support for small business will allow entrepreneurs to fund their ideas to bring jobs and money to the city.
Snyder amplified the crowd by announcing that the newly trained workers will be needed to build a bridge connecting Detroit and Canada.
Snyder commented, "You've reinvented lives Jamie, you and your team," before calling for a standing ovation.
Related: JP Morgan Belives In Detroit, Backs Up Its Support With $100 Million
Mike Duggan was equally excited about the investment. "This commitment from JP Morgan Chase represents a real vote of confidence in the work we are doing in Detroit right now… This team came in, they took the time to understand what we had going on… and we structured this together."
Along with Jamie Dimon, Duggan also recognized Dan Gilbert's passion for the city. Duggan described Gilbert as so caught in a conversation on fixing blight in the city that he missed the Cleveland Cavaliers winning the NBA lottery.
Gilbert responded to JPMorgan Chase's investment by commenting, "JPMorgan Chase's impressive commitment to Detroit is more evidence that nation and even global institutions are becoming confident in the story and opportunity that is 'Detroit.' I am hopeful that JPMorgan Chase's support will not only strengthen important community and business efforts already underway in Detroit, but inspire additional local and national players to engage in the rebuilding of our great American city."
Posted-In: Dan Gilbert Jamie Dimon Mike Duggan Rick SnyderTop Stories General Best of Benzinga
View Comments and Join the Discussion!