Tesla Could Soon Use Cobalt-Free LFP Batteries In China-Made Model 3s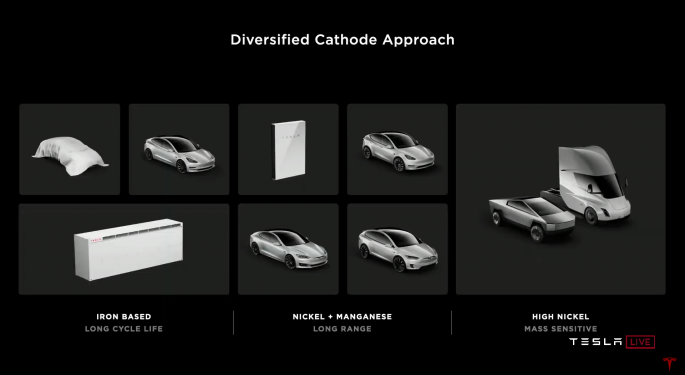 During Tesla Inc's (NASDAQ: TSLA) battery day presentation, CEO Elon Musk spoke about a strategy of different battery materials for different products going forward.
They include iron for low cost and high volume; nickel and manganese for long range and high volume; and pure nickel for mass-sensitive vehicles.
Now it appears that Tesla is ready to put that plan into action, with Tesla fan site Tesmanian quoting anonymous sources who say that Tesla Model 3s from Gigafactory Shanghai will soon use cobalt-free lithium iron phosphate (LFP) batteries, with an announcement coming as soon as Thursday.
Back in July, CATL, a manufacturer of LFP batteries, confirmed it would be supplying Tesla.
LFP batteries are cheaper to produce, long-lasting and contain no cobalt or nickel.
Not only does this free up these resources for other applications, but cobalt is a highly controversial metal due to the mining practices with which it is often associated. Tesla is hoping to be totally cobalt-free in the near future.
Benzinga's Take: If Tesla is switching to these new iron batteries, they could reduce the production cost of the Model 3 while freeing up scarce nickel to use in other vehicles produced around the world. This is also the type of battery that will eventually be used in Tesla's future $25,000 vehicle.
Photo from Tesla's battery and investor day.
View Comments and Join the Discussion!
Posted-In: electric vehicles EVs TesmanianTech