What Can Retail Learn From eBay?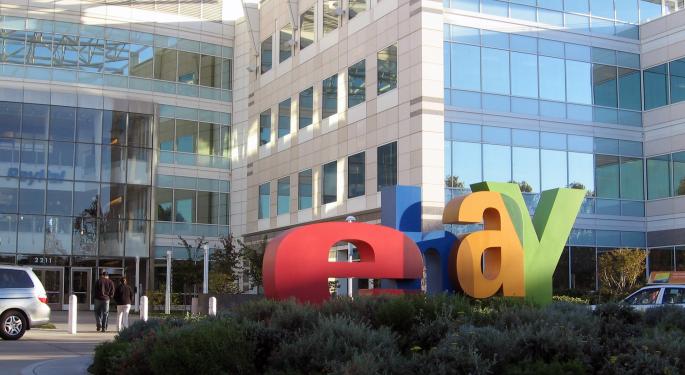 EBay Inc (NASDAQ: EBAY)'s status as being far from the largest player in the online space isn't stopping it from surviving amid much larger companies, Gadfly's Sarah Halzack said. In fact, eBay has much to offer in terms of advice for struggling offline retailers as it is showing tremendous "survival skills."
EBay's earnings report isn't necessarily sitting well with many investors; the stock is trading lower by more than 5 percent. But, behind the scenes, eBay is doing all the right things to ensure its longer-term survival. For example, the company is aggressively investing in a marketing campaign that not-so-subtly positioned itself as an exciting way to shop online.
What's even more impressive is the fact that eBay is working hard to solve its biggest problem: Customers don't know what eBay is and what can be bought on the platform, Halzack said. Throughout the 1990s and early 2000s, eBay was known as an auction site. Today, 87 percent of all transactions are not auction-style purchases.
This is akin to struggling legacy retailers that need to convince customers they are fresh and relevant and not another boring big-box chain. Companies should emulate eBay's new approach to surviving: "Clear messaging combined with nitty-gritty technical work."
Finally, eBay's ample cash gives it the necessary resources to continue fighting back against much larger rivals with the ultimate goal of gaining share over the longer-term instead of fading into irrelevancy — just like many retailers have in the past few years.
Related Links:
eBay Earnings Preview: Marketplace In Focus As Company Works On Revamp
Want To Invest In E-Commerce? Check Out These 5 Ideas
_________
Image Credit: By Leon7 (Own work) [CC BY-SA 3.0 (https://creativecommons.org/licenses/by-sa/3.0)], via Wikimedia Commons
Posted-In: e-commerce Gadfly retail retailers Sarah HalzackTech Media Best of Benzinga
View Comments and Join the Discussion!