Apple And Instagram Are Stomping Out Marijuana...But Should They?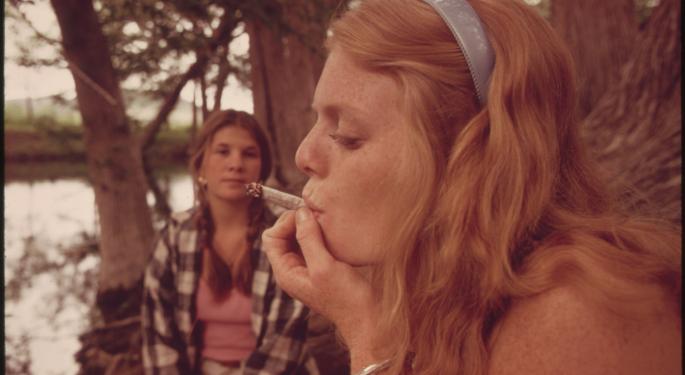 Apple Inc. (NASDAQ: AAPL) and Facebook Inc (NASDAQ: FB)'s Instagram are making life difficult for entrepreneurs with marijuana-related businesses.
BuzzFeed recently detailed how Instagram deleted "dozens of cannabis-related accounts" over the past few months.
Meanwhile, Apple has been cracking down on apps that portray recreational use of the drug. These actions have frustrated men and women who use Instagram and the App Store to promote their marijuana-related products.
"Facebook is doing it because they don't know where the moral and legislative compass is," Kaiser Wahab, an attorney and partner at Wahab & Medenica LLC, told Benzinga.
"They don't know if they're going to get into trouble. For example, if there's a bunch of kids smoking up, or a bunch of adults smoking up -- or a bunch of kids and adults smoking up -- and taking photos and something bad happens, Apple and Instagram are necessarily going to be part of the evidentiary chain."
Tech industry expert and analyst Jeff Kagan, meanwhile, thinks that Apple, Facebook and other tech giants and social media sites are "too big and too powerful to take a hands-off approach."
"It is their responsibility," Kagan told Benzinga.
"These are companies that provide these technologies that allow this kind of thing to happen. Whether they like it or not they play a role," he said.
"Whether it's a legal responsibility or whether it's a moral responsibility or just a PR responsibility, they're part of the mix and they have to be careful about their image. In certain markets it's not legal. And in certain markets it is."
Related Link: Which Is Worth Less: Marijuana Stocks, Bitcoin Or A Pile Of Dirt?
Problem Avoidance
Wahab gave a hypothetical scenario that explains why Apple, Instagram and other companies might ban those who promote marijuana use.
"There's a scenario: someone is smoking a lot of marijuana," said Wahab.
"They take photos of it. It turns out he's a dealer. Police are now regularly trolling and harvesting social accounts for all sorts of evidence: whereabouts, intent. [Suppose] the perpetrator said on Twitter that he wanted to hurt his girlfriend."
Police are also looking at the actual action. In Wahab's hypothetical example, the perpetrator had 15 bushels of pot in his apartment.
"He took a big picture with his cell phone and said, 'Hey, reach me here if you wanna get some,'" Wahab added. "Apple doesn't want to be in the middle of this and neither does Instagram. And they don't want to be in the middle of the [legal] debate either."
Disclosure: At the time of this writing, Louis Bedigian had no position in the equities mentioned in this report.
Image credit: Public Domain
View Comments and Join the Discussion!
Posted-In: Apple Facebook Instagram Jeff Kagan Kaiser Wahab Wahab & Medenica LLCTech Best of Benzinga