Re/code's Kara Swisher Discusses Apple's iPhone 6, Google, The NSA And More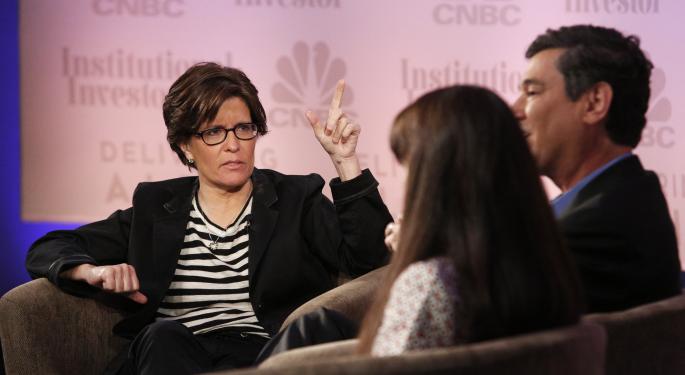 Re/code Co-Executive Editor Kara Swisher joined Benzinga's #PreMarket Prep this week for an in-depth interview on Groupon (NASDAQ: GRPN), Google (NASDAQ: GOOG), the iPhone 6 and more.
The Next iPhone
"It's going to be a bigger phone," Swisher said about Apple's (NASDAQ: AAPL) long-awaited iPhone 6, which could be unveiled on September 9. "That's pretty much it."
Aside from that, Swisher said there are "are all sorts of things" that Apple is announcing, such as its health initiative, which is a big "area of interest" for CEO Tim Cook.
"It's sort of competing in that Samsung Galaxy space, and most people think that the form factor of the iPhone is too small," Swisher added, noting that many consumers prefer phablets. "…I'm looking forward to seeing it. I kind of have a little envy toward the Samsung phones. At the same time, I'm used to the Apple system. I like it, and all my information is there."
Related Link: iPhone 6 Demand Sets New Record
The Importance Of Groupon
In discussing the online coupon industry, Swisher said that while Groupon has struggled, its original idea was an important one.
"It's an important space, obviously, because everything is going to the mobile device," she said. "That's where people are going to get their discounts and awareness of when sales are happening."
Swisher said that there is still the question of who will actually take advantage of the market as it moves forward.
"But as a pioneer, Groupon is a really important company," she added. "I don't know what is going to happen to it at all, but it's trying to establish itself as the player in this space and helping … small businesses get discounts, and it is a really competitive market."
Uber: The Next Google?
Swisher addressed the issue of tech companies that show promise but may be overvalued.
"It's just a question of whether their revenues can catch up to the valuations they have," she said. "Uber is obviously a promising company, but the valuation is massive. If you had bought Google at that price -- and it used to be at that price, people thought it was ridiculous -- people [assumed] it was overvalued and it turns out it's not overvalued at all. It grew into the massive valuation it had."
Not all companies are Google, however.
"I think it's just a question of picking the winners in this space and deciding which ones are going to be the ones that impact society the most," said Swisher.
Rupert Murdoch Vs. Google
Rupert Murdoch recently said that Google is worse than the NSA. Swisher's take on the matter: "I'm just as concerned about Rupert Murdoch as I am about Google."
"All these companies have massive amounts of data on the consumers that really give up their information…" said Swisher. "People love to share and they love to extract information from the Internet. In that exchange you are going to get a lot of data about people's movements and about their buying purchases. It's a two-way street. Consumers are liking these devices, and at the same time these companies have a great responsibility to take care of the information that they are getting."
Swisher said that these firms have sent the message that free services come with a price. In most cases, that price is data.
Disclosure: At the time of this writing, Louis Bedigian had no position in the equities mentioned in this report.
Posted-In: Google Groupon iPhone 6 Kara Swisher NSA PreMarket PrepTech Interview Best of Benzinga
View Comments and Join the Discussion!