Netflix Price Hike Angers Customers, Opens Door for Blockbuster Invasion
"Noooooooooooooo! I just paid $2 extra to get DVDs!"
That was the response one of my colleagues gave when I informed her of Netflix's (NASDAQ: NFLX) devious plans to separate its streaming and DVD services in the U.S. This questionable move comes at a time when the company is soaring. But the next time an investor asks, "Is Netflix overvalued?" we might know the answer.
Only a company that is overvalued would think that it has the right to increase our monthly fee by 60%. Current subscribers pay just $9.99 to get unlimited streaming access and a few DVDs. New subscribers must now pay for streaming ($7.99) and unlimited DVDs ($7.99) separately; starting September 1, everyone will be saddled with this deal.
Twitter has been overflowing with responses from consumers who are angry, puzzled, or both: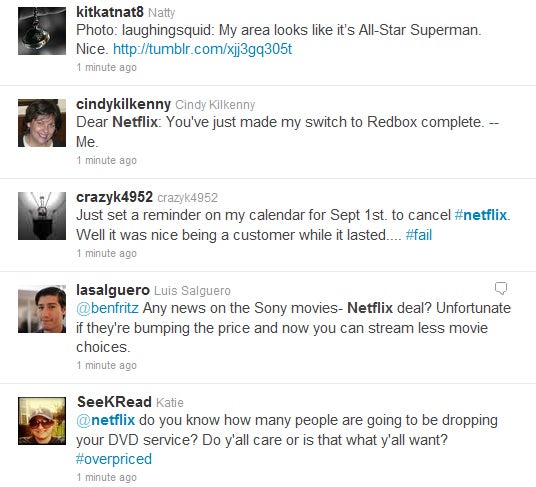 Many subscribers plan to cancel their service before the new fees go into effect.
@capitolchick says that when Netflix streams the same content that's available on DVD, she'll pay for the service. "Until then, adios," she tweeted.
"This confirms my decision to cancel my @Netflix acct," @micheledortch wrote. "Calendar marked to do it well B4 9/1."
Even @RottenTomatoes got into the discussion, saying, "We haven't seen this many angry movie fans since that one studio bought that one movie review website."
Not all of the tweets have been negative. But a few Netflix users are raising some good points.
"If @netflix were increasing prices because they could stream new movies sooner, I'd be okay with it," @Batgirl wrote. "Without that, wtf with the increase?"
"By splitting streaming and DVD plans, Netflix no longer capitalizes on its unique ability to do both--& slams some users with huge $ rise," @stevenjayl tweeted yesterday afternoon.
Streaming vs. DVD Users
Around the Benzinga office, existing Netflix customers (as well as those who had planned to subscribe) are not happy with the price increase. Subscribers who only use the streaming service, however, do not seem to care about the hike – mostly because it doesn't affect them.
Gavin Purcell, a TV producer at Late Night with Jimmy Fallon, has had a lot to say on the matter of Netflix and DVDs. "Stop complaining about the Netflix price hike," Purcell tweeted. "You know you only use the DVD portion for coasters anyways."
"Also re: Netflix price hike, it should be obvious to everyone that Netflix wants out of the DVD business," he wrote in another tweet.
While the comments from Purcell and other streaming-only subscribers show a division of Netflix customers, Benzinga's own Luke LaVanway has what might be the most realistic take on the situation.
"I think the Netflix rate hike tells us that they are probably not profitable at the $7.99 price point," said LaVanway, a Senior Producer at Benzinga Radio. "$7.99 was essentially a loss leader with the purpose of growing the subscriber base and buying time for licensing. Netflix's streaming content portfolio has been getting more robust by the day, and it justifies an increase in price. That said, it is always unwise to ask subscribers to pay more for the same service. But I think in the medium term everyone will come around."
LaVanway makes some good points. However, Netflix is going to have a hard time convincing customers that it just had to raise the price when its content continues to fluctuate. Films and TV series that are streaming today are not guaranteed to be available tomorrow. Comcast (NASDAQ: CMCSA), Time Warner Cable (NYSE: TWC) and other cable providers are guilty of this same tactic when bringing content on-demand.
While some believe that Netflix's rate increase will drive consumers to the aforementioned cable providers, it is much more likely to validate the planned price increases for some while encouraging an increase for others. Comcast, for example, raise its rates as often as possible. By increasing its monthly fee for DVDs, Netflix has basically told Comcast that it's okay to charge an exorbitant amount of money for its cable service.
Worse yet, now that Netflix has made the first move in the price increase war, Hulu is free to do the same. While I do not expect the video giant to increase its monthly fee this year, and while I do not expect that increase to be more than $2 (it is very possible that Hulu will only go up by $1 – a much more reasonable increase), the reality is that a price increase is coming. Hulu may have had concerns about a price increase before Netflix's announcement, but you can be certain that they don't have any now.
Make it a Blockbuster Invasion
Blockbuster (BLOAQ) (BLOBQ), the former video rental powerhouse that succumbed to bankruptcy and a Dish Network (NASDAQ: DISH) takeover, could use this as an opportunity to shine.
The company attempted to take advantage of the situation yesterday afternoon by promoting its own pricing scheme. This, however, is not the strategy that Blockbuster – a chain that has adjusted its prices several times in the past two years – should be taking. For one thing, its current prices aren't that appetizing: $2.99 for a one-day rental is far from a spectacular deal, even if the movie is brand-new. I'd rather pay $8 to $10 and see the film on the big screen, or stay home and pay $4 to rent it on-demand.
Instead of hyping the price of in-store rentals, which consumers despise, Blockbuster needs to adjust its online rental service and promote it to no end.
For the moment, consumers can pay $11.99 for unlimited films, TV shows and video games. That's not a terrible deal for moviegoers who also want to play a round of Grand Theft Auto or Call of Duty. But it is a horrible alternative to Netflix, which is still cheaper at $7.99 per month.
Blockbuster brags about its service for delivering new releases 28 days before Netflix and Redbox, the kiosk rental service from Coinstar (NASDAQ: CSTR). This promo assumes that moviegoers care about renting new films as soon as possible. But if that were the case, wouldn't they have seen the film in theaters? Consumers are content to wait the extra 28 days, which is why they have continually chosen Netflix over other services. Blockbuster needs to realize this and move on.
The one way Blockbuster could shine is if it temporarily slashes the price of its single-disc unlimited rental plan to $6.99. Blockbuster should guarantee the deal for 18 months to lock-in as many subscribers as possible, and then use those months to perfect and launch a full-scale streaming service. Dish Network should also use its brand and licensing power to score exclusive deals that Blockbuster could not have achieved on its own.
When 18 months have passed and the company's rates must be raised, Blockbuster would be wise to offer streaming and DVDs for $9.99, giving current and former Netflix users something to think about.
While this might sound like an impossible strategy for Blockbuster to implement, it's no secret that the company's current plans are failing. Assuming Dish Network acquired Blockbuster for reasons other than to watch it die, the satellite provider should be willing to take a loss in the near-term in order to prepare for what could be some very promising long-term gains.
Follow me @LouisBedigian
Neither Benzinga nor its staff recommend that you buy, sell, or hold any security. We do not offer investment advice, personalized or otherwise. Benzinga recommends that you conduct your own due diligence and consult a certified financial professional for personalized advice about your financial situation.
Posted-In: Blockbuster Call of Duty Dish Network DVDs Grand Theft Auto Netflix streaming videoTech
View Comments and Join the Discussion!