Simon Property Group Inc and Recent WPG Spin: Billions Bet On Glimcher Mall Assets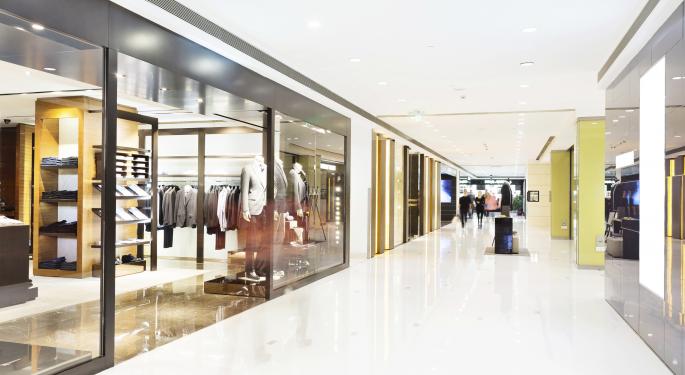 Nobody saw this one coming, as all eyes were looking elsewhere.
Simon Property Group Inc (NYSE: SPG) CEO and Chairman David Simon was very clear last week when he presented at the Barclays investor conference that he had no plans on investing in Australian mall assets, despite reports fueled by his company jet landing having recently landed there.
Mr. Simon made it equally clear to investors that he believed that well located mall assets, including Class-B assets in smaller markets, could be considered solid investments.

Consistent with that mantra, it appears that Simon's Washington Prime Group (NYSE: WPG) was already working on a deal to acquire Glimcher Realty Trust (NYSE: GRT), which was announced on September 16, 2014 prior to the opening bell.
Related Link: Simon Property Group Presents A Compelling Bullish Case
Here are some of the highlights from the Washington Prime conference call presentation: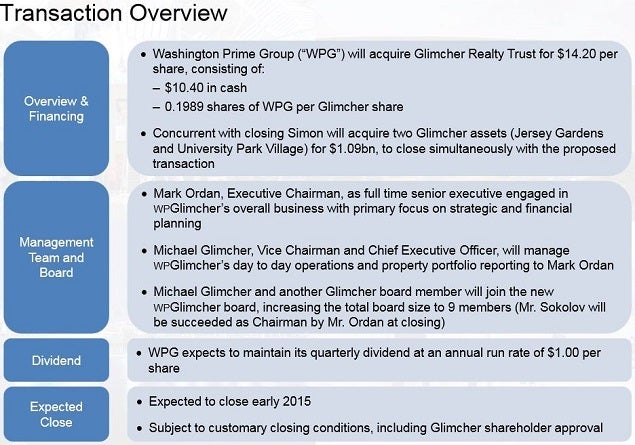 It appears that Simon is not only leveraging the asset portfolio, but is tapping Michael Glimcher as a key member of the merged entity management team.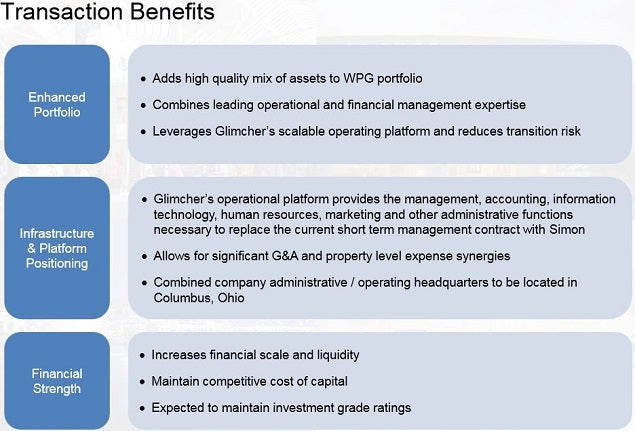 It did not take long for at least one of the major ratings services to weigh-in on the structure of the combined entities.
Moody's Concerns Regarding The Combined Entity
Although Moody's reaffirmed Washington Prime's Baa2 rating, it revised the outlook to negative from stable, while placing Glimcher on review for an upgrade. Moody's rationale for the ratings changes included:
• Glimcher is highly leveraged, which will cause the merged entity's debt levels to increase significantly upon the closing of the transaction.
• Moody's cited the generic risks of any merger regarding the combining of two corporate cultures and realization of expected synergies.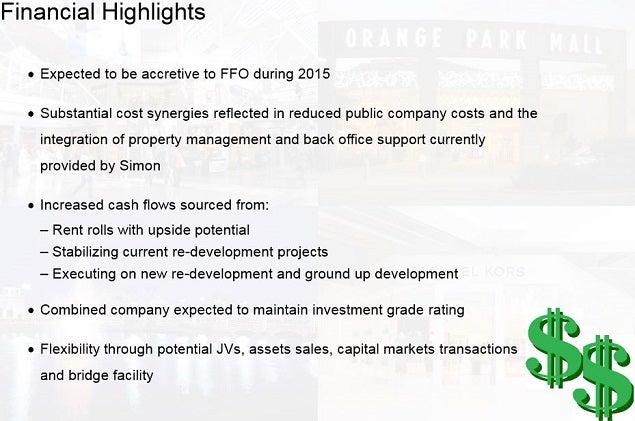 Moody's Also Recognized These Credit Positives
• Enhancement of the combined REIT's overall asset quality.
• Acknowledgement that increases in the scale of retail REITs generally offers advantages in leasing and redevelopment opportunities.
• WPG gaining Glimcher's operating platform, which should accelerate internalizing management, rather than relying on Simon to perform many of these services currently.
•Simon Property Group management has a long history of successfully integrating major acquisitions while maintaining a strong balance sheet.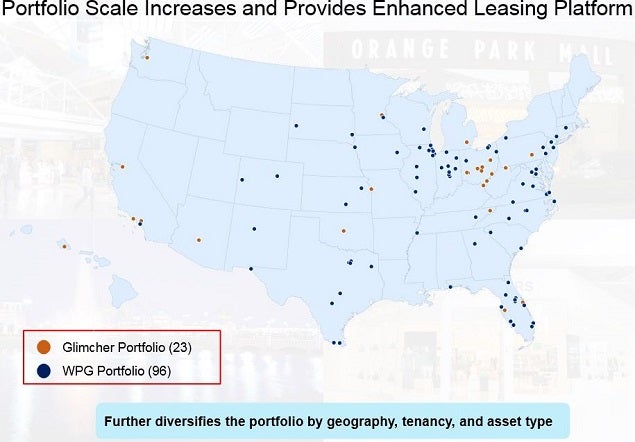 The WPG portfolio's west coast presence is clearly strengthened by Glimcher assets in Northern and Southern California, Hawaii, Arizona and Washington.
Investor Takeaway
When Simon Property Group spun out Washington Prime Group it received $1 billion in cash on its balance sheet. In order to fund the Glimcher acquisition, Simon is paying about $1 billion in cash for two higher end Glimcher malls located in New Jersey and Texas.
Related Link: 5 Key Takeaways - Simon Property Group CEO Interview With Brian Sozzi
In addition, when the merger is completed, the combined entity will logically continue to trade on the NYSE under the WPG stock symbol -- now in consideration of the Washington Prime/Glimcher roots.
In retrospect, everything fits together so perfectly, that it almost seems as though Simon anticipated this transaction occurring when it announced the WPG spin-off back in December 2013.
Disclosure: At the time of this writing, the author had no position in the equities mentioned in this report.
Posted-In: David Simon Moody's REIT Simon Property GroupREIT Real Estate Best of Benzinga
View Comments and Join the Discussion!