That Makes Cents Episode 5: Managing Your Marriage And Money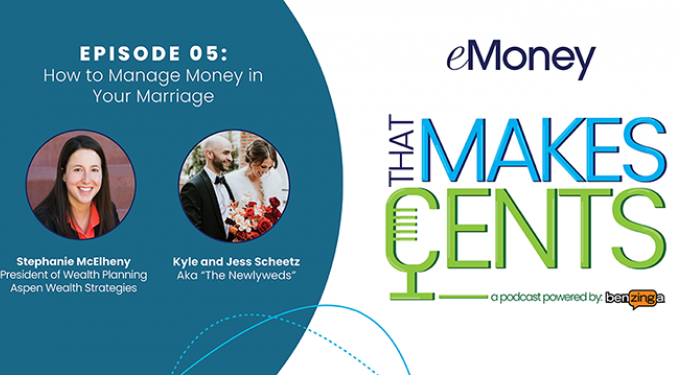 In Episode 5 of That Makes Cents, an eMoney Advisor podcast powered by Benzinga, Benzinga's Spencer Israel speaks with Stephanie McElheny, president of wealth planning at Aspen Wealth Strategies, and Kyle and Jess Scheetz, a newlywed couple, about managing finances within a relationship.
The topic of marriage and money can be personal, vulnerable, and in some cases, avoided altogether. In a 2013 study by the National Center for Biotechnology Information, 36% of couples cited financial problems as the reason for their divorce making it the fifth-leading cause of divorce according to their results.
For Episode 5 of That Makes Cents, an eMoney Advisor podcast powered by Benzinga, we try and tackle this issue by bringing the conversation of finances and marriage to the light.
In part one, Spencer Israel speaks with the President of Aspen Wealth Strategies, Stephanie McElheny, to get a professional perspective on some of the common mistakes married couples make when talking about money and ways to hopefully avoid financial problems from happening.
In part two, Spencer speaks with newlywed couple Kyle and Jess Scheetz to get a real-world perspective on how they navigate the subject of money, what's worked for them, what hasn't, and what advice they have for other married couples communicating about money.
This episode also covers:
Do couples talk about money before marriage? (5:17)
Whether or not it's a good idea to combine finances in a relationship (21:09 and 48:01)
How to resolve disagreements over purchases (43:22)
Listen to the full episode of That Makes Cents below.
For more information on eMoney Advisor: https://emoneyadvisor.com/
For more information on Aspen Wealth Strategies: https://aspenwealthstrategies.com/
That Makes Cents archives: https://info.emoneyadvisor.com/podcast
DISCLAIMER
Please be advised that this podcast contains purely educational information and nothing discussed may be construed as legal, tax, or financial advice. Please consult a financial advisor for any financial investment or money management questions you may have of views or opinions represented on this podcast are solely the opinion of the speaker and do not represent those of eMoney Advisor LLC or any of its affiliates or subsidiaries.
View Comments and Join the Discussion!
Posted-In: divorceFinancial Advisors Education Economics Media Personal Finance Interview General Best of Benzinga