Nike Takes Flight With High Fashion And High Performance Line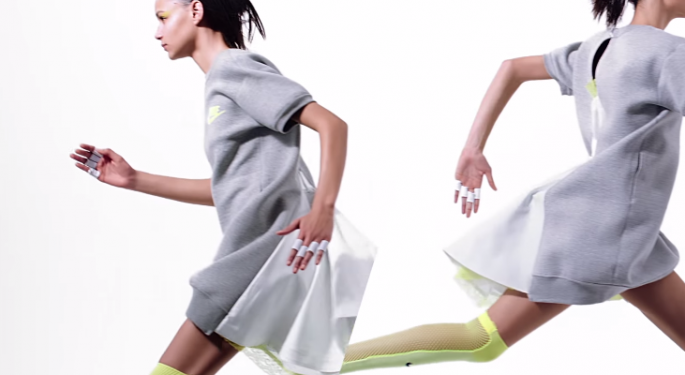 As lines continue to blur between high tech and high fashion, consumers are demanding more high performance fashion in their daily lives—on and OFF the court. Clever sports apparel brands would be mindful to capture this opportunity to further expand their brand and dress their target market on more occasions.
This Thursday, Nike Inc (NYSE: NKE)'s Nike Lab masterfully launches its Nike X Sacai collection –- the latest designer collaboration with Chitose Abe.
With superior market share both in footwear (NIKE, JORDAN, DUNK) and apparel this collection is a clever move on Nike's part to stretch its reach into a 'NormCore, 'Health-Goth' consumer, which is fancy industry talk for those of us who want to look fashionably fly on the street while sporting technically superior sportswear that cools,wicks, or warms.
Now, the designer/ sport collaboration 'thing' isn't new, but is currently very popular with the monied fashionista crowd—and commanding a high margin and hefty price point. All good things for Nike.
Related Link: Apple Watch: 50 Shades Of 'Meh'
Earlier designer Alexander Wang—a fave among Jay-z and Biancee, Kanye West and Kim Kardashian— launched a collaboration with fast fashion label H & M $HMB to a bevy of kudos from the fashion world. Adidas has a long standing relationship with Stella McCartney lending her aesthetic to its womens sport apparel.
Yet, for this collection Nike Lab allowed Ms. Sacai to pull retro designs from its archives and put a new twist to the garment, like its Windrunner pictured here.
OLD SCHOOL indeed.
Pleats are added, fishnet mesh appears on knee-high athletic socks. And trust me when I tell you, never ever underestimate the power of fishnet.
Why do we care you ask?
Collections like these allow NIKE to keep attracting and expanding its consumer base, which usually strengthens the brands position all the while expanding its market share and occasions of use, a term we merchants use to increase purchasing behavior. Kind of like when denim morphed into an every day all-occasion fabric as opposed to manual labor work wear or weekend casual attire.
Since NIKE has incredible speed to market, size, and technology and one hell of a cadre of design talent, this —from my perch is just one more way for the brand to remain defensive.
Notice that I have refrained thus far from using the word 'Athleisure' which has been coined by fashion nerds and equity analysts alike to refer to tech heavy sportswear that is being adopted by consumers and then worn on the street instead of the yoga studio.
There are detractors out there who believe that "Athleisure" is simply a fad, like Juicy Couture track suits. (Thank God THAT'S over.)
Savvy investors will realize that this is not the case, that as we blend health and fitness into our daily lives and work schedules, what we wear will have to accommodate and morph along with our lifestyle—be it apparel, footwear or technology (APPLE WATCH).
Donna Karan said that at its core "fashion must make women's life easier," I believe women AND men want the same thing. Leave it to Nike keep delivering the gift that keeps on giving.
Image credit: Nike YouTube, Screen Capture
Posted-In: Opinion General Best of Benzinga
View Comments and Join the Discussion!