3 Stocks That Smart Money and Analysts Like Which Are Poised to Make a Technical Move
Along with substantial institutional ownership and solid "buy" recommendations by analysts, the thing that sets this group apart is the fact that they are all micro-cap stocks (with values between $50 and $300 million) that are showing a strong technical possibility of moving out of their recent consolidation trends.


As some of you know, triangle patterns are usually characteristics of a trend consolidation followed by an accelerated break out of the pattern in the direction of the continuing trend.
All of these stocks are showing a symmetrical triangle which is indicative of a period of consolidation during a trend. As such, the pattern yields to a breakout in the direction that corresponds with the trend beforehand. In short, something has to give and if you like to trade, then you may want to put these potential movers on your radar screen.
Lpath Inc (OTCBB: LPTH) is a therapeutic antibody company which has been getting increased attention for its focus on lipid-based therapeutics, which some believe may be the next big thing in biotech.
The stock's chart shows a bullish flag formation with a pennant that may be getting ready to yield.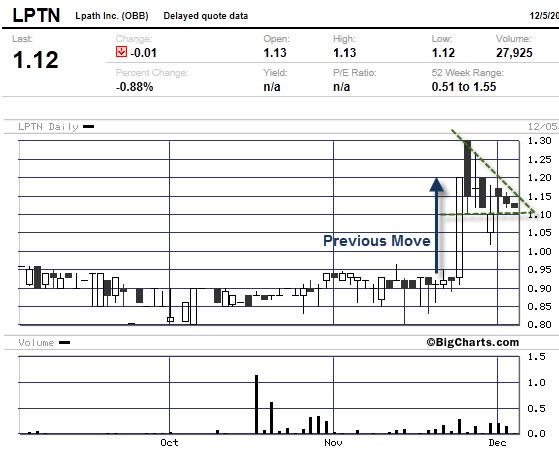 Unlike the vast majority of developmental biotech companies its size, Lpath benefits from having a powerhouse partnership with Pfizer, the world's largest pharmaceutical firm. Last year, a transformational deal was made in which Lpath was paid an upfront option payment of $14mm, with the potential for a total of $497.5mm in milestones if Pfizer decides to license rights to one of the drugs undergoing clinical trials (iSONEP™) and expecting results soon.
With a current market cap of 63M, the stock has an analyst price target of $8 and is currently 27% lower than its 52-Week high of $1.55. Volume and trading activity has been rising in the stock has been on the rise since October.
Globecomm Systems (Nasdaq: GCOM) was founded in 1994 and headquartered in Hauppauge, New York, Globecomm Systems Inc. engages in the provision of satellite-based network solutions to government, communications service providers, commercial enterprises, and media and content broadcasters in the United States, Europe, South America, Africa, the Middle East, and Asia.
Comtech is set to unveil its latest earnings on Thursday, December 8, 2011. What will those earnings tell us? Only insiders know, but the chart says one way or another, the stock price is set for a move.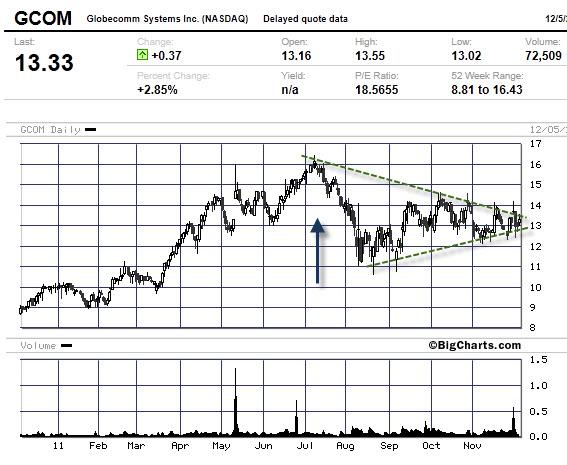 With a market cap of 304.72M, the stock has a whopping 87.33% institutional ownership and a price target of $15.75
Live Nation Entertainment, Inc. (NYSE: LYV)
Just last week the leading live entertainment and eCommerce company announced key appointments to the New York office and the North American Touring team. The firm is comprised of four market leaders: Ticketmaster.com, Live Nation Concerts, Front Line Management Group and Live Nation Network.
Of the 117,680,000 shares in the float, 76.02% are owned by institutions and analysts have assigned the firm a $12.86 per share price target.



Even so, since the previous trend in this one was a move lower, the technical indicator here may yield in the same direction. Given that, a growing number of shorts adding to their positions. 13,974,300 shares are currently short- an increase from the previously reported 11,978,300. Will they or the analysts be right?
The stock is currently 28.78% lower than its 52-Wk High ($12.44) and 24.09% higher than it's 52-Wk Low ($ 7.14 ).
The following article is from one of our external contributors. It does not represent the opinion of Benzinga and has not been edited.
View Comments and Join the Discussion!