Warren Buffett Stops By ESPN Radio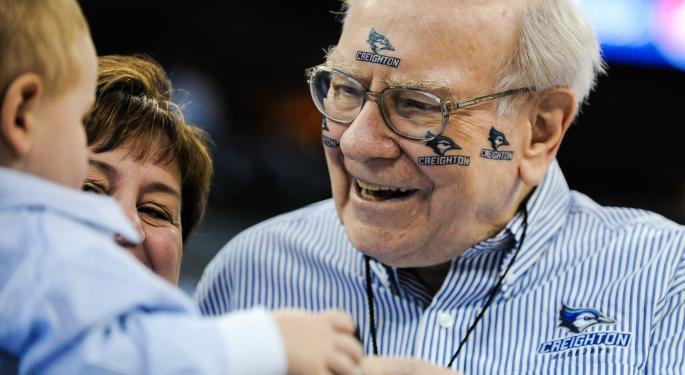 "I hope somebody comes very close," said Warren Buffett, followed by a light chuckle from the billionaire investor.
The Oracle of Omaha joined ESPN's Mike & Mike In The Morning show on Wednesday to discuss the $1 Billion Bracket Challenge.
The Berkshire Hathaway (NYSE: BRK-A) CEO said he was talking with a broker in Texas when the idea of a perfect bracket challenge came up. Dan Gilbert, President and CEO of Quicken Loans, jumped at the idea after meeting with Buffett in Detroit while he was in town in November.
"I made a calculation and a premium of what I thought the odds were. I had a guy at Berkshire make his own calculation," said Buffett, speaking on the odds of winning the challenge. "We were in the same ballpark, but it was a pretty big ballpark."
According to a press release from January, any qualified entrant who correctly enters the contest and predicts the winners of every game in the tournament will share the total $1 billion prize paid in 40 annual installments of $25 million. Alternatively, the winner(s) may elect to receive an immediate $500 million lump sum payment or share in that lump sum payment if there is more than one perfect bracket submitted.
Related: Berkshire Hathaway: Playing Catch-Up With The Market
Co-host Mike Greenberg asked Buffett that, if someone had a perfect bracket going into the NCAA Final Four, would the investor consider buying out that person. "...if Quicken gave me the go-ahead, I can be negotiated," he answered. "I'd be sitting there sweating."
In addition to the prize, Quicken Loans will award $100,000 each to the contest's 20 most accurate 'imperfect' brackets submitted by qualified entrants in the contest to use toward buying, refinancing or remodeling a home.
Buffett also spoke on other sports topics, mentioning Lebron James as one of the smartest athletes he's come in contact with. He also said the oft-criticized Ndamukong Suh (an alumni of the University of Nebraska) is a good guy who is a little misunderstood.
Buffett said he has the right temperament for being in the business he is, saying that you have to keep your head when others are "exceedingly enthusiastic or exceedingly depressed."
"I found what I love to do very early (7 or 8-years old) and then I had some great teachers," said Buffett. "I'm in a game with no hand-eye coordination; you can play the game all your life."
Posted-In: Dan Gilbert ESPN LeBron James Mike & Mike Quicken Loans Warren BuffettEvents General Best of Benzinga
View Comments and Join the Discussion!