Why Does China Continue To Be Apple's Weakness?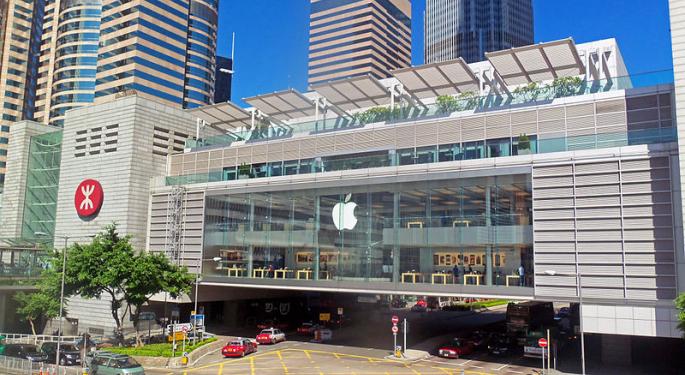 Apple Inc. (NASDAQ: AAPL) reported thumping fiscal year third-quarter results, with beats all around. Earnings per share, revenues, services revenues and iPhone shipments all exceeded expectations.
Given that the fiscal third quarter is a seasonally weak one for Apple, expectations were muted — but Apple surprised everyone with stellar results Aug. 1. Despite expectations that iPhone shipments will suffer as customers wait on the sidelines for the release of the newest iteration of the gadget, volumes rose 2 percent year over year and revenues increased 3 percent.
Extended Weak Run
All was not well with the Q3 earnings report. China, touted as the world's hot-and-happening economy, proved to be Apple's Achilles' heel.
Geographically, Apple's revenues from Greater China, which includes mainland China, Hong Kong, Macau and Taiwan, reported both year-over-year and sequential declines of 10 percent and 25 percent, respectively.
The Greater China region accounted for 17.6 percent of Apple's total revenues in the third quarter.
All other geographies, including the rest of Asia Pacific, reported year-over-year growth in revenues, with the rest of Asia seeing revenue growth of 15 percent, the fastest among all regions.
This weakness has been lingering for some time now, with the company reporting double-digit sales declines in the Greater China region for five consecutive quarters in the run up to the FQ3 quarter, according to Statista.
The third quarter was not been as difficult as the previous ones, as the year-over-year decline has been only 9.5 percent. Nevertheless, Apple has experienced an 18-month rut in China.
Source: Statista
What's Ailing Apple in China?
Homegrown competition is strangulating China, with domestic vendors continuing to take share from Apple. Based on sales revenues, Apple products, including the iPhone 7 Plus and iPhone 7, had a combined market share of 71.5 percent in the first quarter of 2017, according to data from Counterpoint.
Though there are about 100 players in the domestic smartphone market, the top five vendors account for three-fourths of the market volume.
The Chinese smartphone market grew 3 percent year-over-year in the June quarter, marking the second straight quarter of year-over-year growth.
"The Chinese market showed a positive uptick in demand as well as supply during the June ending quarter. June seasonally is a strong month for China, as it is usually buoyed by portfolio upgrades from major brands such as Oppo, Vivo and Xiaomi," said Counterpoint Research director James Yan.
The top four Chinese brands, namely Huawei, Vivo, Oppo and Xiaomi, accounted for 69 percent of the market, thanks to their expansive distribution reach and exciting portfolio.
Among the top four Chinese brands, Vivo saw the fastest market share (unit shipments) growth of roughly 29 percent to 17 percent. Huawei's market share rose 19.5 percent to 20.2 percent. This compares to the 17.5 percent growth for Oppo to 18.8 percent and 16 percent growth for Xiaomi to 13 percent.
Source: Statista
Huawei, according to Counterpoint Associate Director, Tarun Pathak, was able to make inroads with its nova and enjoy series, along with its flagship P10 phones.
Oppo and Vivo's success was in the mid-tier, with the former's A and the latter's Y series. Pathak also said Oppo's F/R and Vivo's V/X did well in the high-end segment.
"Each of the series are well positioned in the fast-growing $100-$199 (600-1300 rmb) and affordable premium $300-$399 (2000-2700 rmb) segments catering demand from tier one cities to tier four towns," Pathak said.
Apple's market share was nearly flat at 8.5 percent compared to 8.2 percent a year ago. Samsung Electronic (OTC: SSNLF) saw a leap in its market share from 3 percent to 7 percent.
________
Image Credit: By Daniel Case (Own work) [GFDL (http://www.gnu.org/copyleft/fdl.html) or CC BY-SA 3.0 (http://creativecommons.org/licenses/by-sa/3.0)], via Wikimedia Commons
Posted-In: AppleEarnings News Global Markets Tech Media Trading Ideas Best of Benzinga
View Comments and Join the Discussion!