Here's Why Monster Has Little Upside Going Into Earnings
The following originally appeared on Finbox.io
Monster Beverage Corporation (NASDAQ: MNST) is expected to report Q1'17 earnings on Thursday after the market closes. Over the prior eight quarters, the company's financial performance and stock price has fluctuated considerably.
For example, the company reported revenue growth of 4.1 percent (vs. 8.1 percent expected) for Q3'16 on November 3rd and the stock fell 14 percent. Then the following quarter, Monster announced that sales increased 18.8 percent (vs. 11.9 percent expected) and shares jumped nearly 13 percent as highlighted below.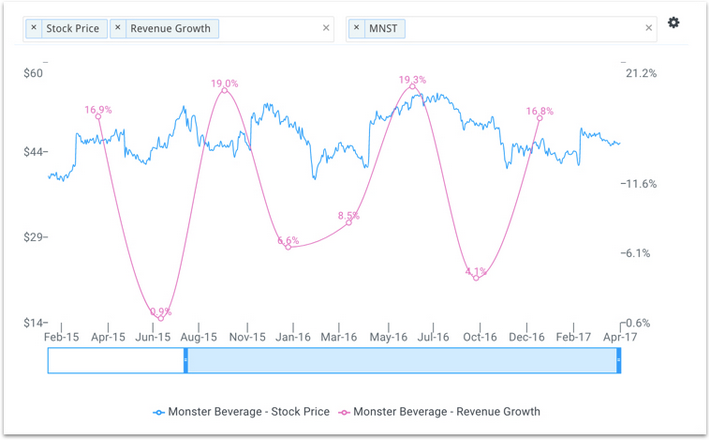 So what should investors expect for Q1'17?
Although the energy drink distributor has beaten its revenue estimates five out of the last eight quarters, year-over-year revenue growth has ranged anywhere from 0.9 percent to 19.3 percent. As a result, the stock has traded at a low of $36.00 per share and a high $54.00 per share over the same period. Overall, the market seems to be trying to figure out if this is still the high growth company that investors have witnessed over the last decade.
However, industry headwinds, poor peer group performance and product delays point to a troubling quarter ahead.
---
Industry Headwinds & Overvalued Peers
CNBC reported on April 19th that U.S. soda sales (including energy drinks) dropped for the 12th consecutive year in the face of consumers choosing healthier options and a slew of sugar taxes. While a declining soft drink market and new tax levies have not directly disrupted Monster's ability to grow its top line in recent years, it is a long-term negative that will surely impact the company down the road.
In addition, comparable companies in the beverage industry appear to be struggling as seen from their recent Q1'17 earnings. Dr. Pepper Snapple Group Inc (NYSE: DPS) shares have dropped nearly 6 percent since the company announced that it missed its revenue estimate by $40 million on April 26th. On the same day, PepsiCo, Inc. (NYSE: PEP) reported that its top line beat estimates by $70 million and the stock has since fallen almost 2 percent.
The Coca-Cola Co (NYSE: KO) also beat its revenue expectations by $240 million but total sales actually fell 11 percent, its eighth consecutive quarterly decline. The stock has generally remained flat since its earnings announcement.
Dr. Pepper Snapple missed its revenue estimate and the stock has fallen 6 percent. Pepsi beat its estimate and shares still dropped 2 percent. Coca-Cola crushed its estimate and the stock has remained flat implying that these beverage companies had stretched valuations going into earnings.
The chart below compares each company's forward EBITDA multiple and projected five-year EBITDA CAGR to Monster's.
Monster is expected to grow at a faster rate over the next five years compared to the selected peer group but not materially higher. Wall Street expects Dr. Pepper and Pepsi to grow their EBITDA at over 7.0 percent annually compared to Monster's 10.0 percent. However, Monster's 18.4x forward EBITDA multiple is significantly higher than Dr. Pepper's (11.6x) and Pepsi's (13.7x).
Furthermore, shares of Monster appear 25 percent overvalued when applying Wall Street estimates to nine separate finbox.io cash flow analyses as shown below.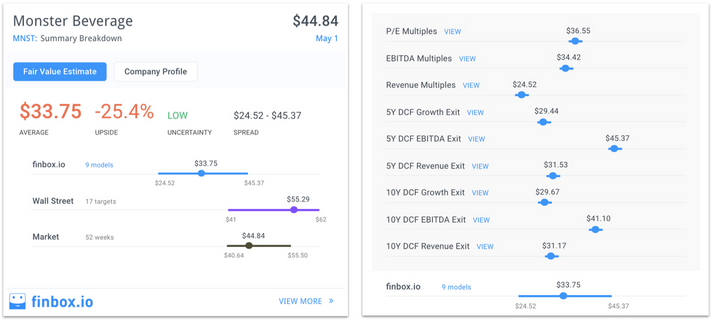 View all 7 valuation models that derive MNST's fair value estimate.
So what should investors expect when Monster reports on Thursday?
---
Concluding Remarks: Little Upside Before Earnings
Wall Street analysts expect revenues to reach $740 million (8.8 percent growth) in Q1'17 which is a reachable figure based on the company's historical performance. However, investors should not expect big upside potential based on the recent earnings performance of industry peers.
In addition, the company's recent Hydro shortage has caused a delay in the launch of the new replenishing drink by potentially 90 days. Expect an update from management on Thursday and whether it is expected to have any impact on the company's performance for the remainder of the year. Any cut in full year guidance will likely weigh heavily on shares.
Overall, Monster's stock appears overvalued on a relative and long-term cash flow basis. Value investors may want to stay away prior to Thursday's earnings announcement.
Posted-In: finboxEarnings Technicals Previews Markets Trading Ideas
View Comments and Join the Discussion!