Is Tyson Foods Bawking The Chicken Trend?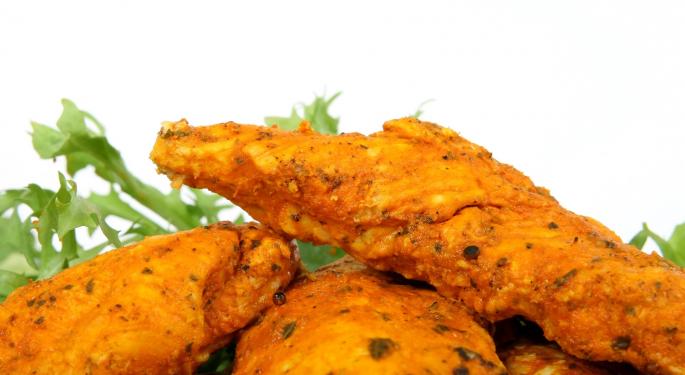 Tyson Foods, Inc. (NYSE: TSN) and Buffalo Wild Wings (NASDAQ: BWLD) reported over the last couple of days financial results for their fourth quarter. Tyson Foods managed to hold itself above the waters despite a regulatory probe overhang. That said, Buffalo Wild Wings managed to succumb to industry-wise malaise.
Tyson's Outperformance Vs. Big Miss From Buffalo Wild Wings
Meat processor and marketer Tyson Foods on Monday reported first-quarter net income of $1.59 per share compared to $1.15 per share in the year ago quarter. Sales were up marginally to $9.18 billion from the year-ago's $9.152 billion. A 2.4 percent increase in volume was offset by a 2 percent decline in average pricing.
Analysts, on average, expected Tyson to report earnings of $1.27 per share on sales of $9.03 billion.
Casual dining restaurant Buffalo Wild Wings reported Tuesday fourth-quarter earnings of $0.87 per share, down 34.1 percent year-over-year. However, revenues rose 0.8 percent to $494.2 million on the back of a 4 percent comp growth in company-owned restaurants and a 3.9 percent increase in comps in franchised restaurants. The company harped on the challenging restaurant environment in the quarter. The earnings per share and revenues sorely missed the consensus estimates, which called for earnings of $1.27 per share on revenues of $513.7 million.
Segment Breakdown
Revenues from Tyson Foods' beef segment (roughly 38.4 percent of total sales) edged down 2.4 percent. On the other hand, the chicken segment (29.5 percent of total sales) saw sales rising 2.7 percent. Revenues from prepared foods (20.6 percent) and pork (13.6 percent) were essentially little changed.
The chicken segment saw both pricing and volume growth, up 1.4 percent and 1.3 percent, respectively. However, operating margin of the segment contracted to 9.7 percent from 13.6 percent, hurt by higher marketing spend and higher operating costs.
Guidance — Contrasting Tales
Tyson raised its 2017 earnings per share guidance to $4.90 to $5.05, up an estimated 12 percent year-over-year, citing outstanding performance in Beef and Pork and strong market conditions in the first quarter. The guidance was ahead of the consensus estimate of $4.89 per share.
Tyson quoted USDA estimates of 2–3 percent growth in domestic protein production in 2017 and moderate export growth. Specifically, the agency expects 2 percent growth in chicken production.
Buffalo Wild Wings forecasts earnings per share of $5.60 to $6 per share for 2017 on same store sales growth of 1–2 percent. This compares to the $6.48 per share consensus estimate.
The contrasting reports of the two companies are reflecting the fundamentals of the respective industries these companies are in. The restaurant industry is facing rough weather, as competitive pressure burns out companies in the space.
Meat Processors Vs. Restaurants
A release from NPD shows that the U.S. restaurant industry will continue to remain stalled in 2017, as it did in 2016. That said, quick service restaurants are expected to see 1 percent growth in visits.
NPD's industry analyst Bonnie Rigs thinks it will make for a more challenging environment for operators to get a greater share of consumers' wallet, as the gap widens between away-from-home and at-home food costs. The analyst expects the commodity deflation to help the restaurant operators offset the higher labor and medical insurance costs.
Meanwhile, the USDA estimates that retail prices of beef, pork and poultry ended the year 2016 down 6–7 percent, 3–4 percent and 2—3 percent, respectively. The drop was seen more as a price correction and the impact of a rising dollar, which slowed exports and increased imports, resulting in a supply glut. Consequently, retailers had to spend heavily on promotions and discount products to stay afloat.
Added to that, meat processors are also hit by scandals. Tyson Foods revealed this week that it has received a subpoena from the SEC in connection with a probe into collusion among meat purveyors over fixing the cost of chicken.
View Comments and Join the Discussion!
Posted-In: Earnings News Guidance Commodities Restaurants Markets Movers Trading Ideas Best of Benzinga