New Year's Earnings: Constellation Brands, Monsanto, Walgreens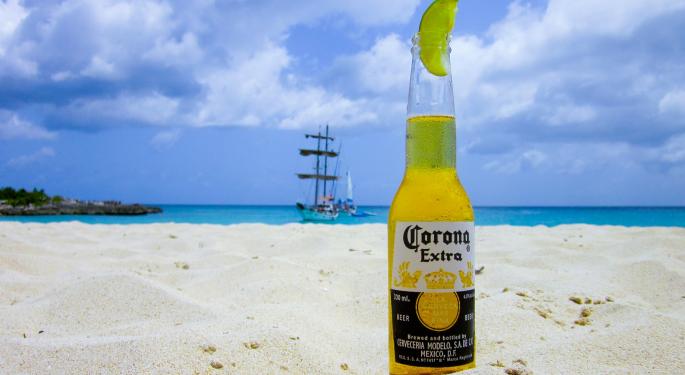 Just a few quarterly reports are scheduled for this week.
An alcoholic beverage giant, an agricultural products giant and a leading drug store operator are on deck to share their latest results.
The new earnings season really kicks into high gear in mid-January.
The new earnings reporting season doesn't really kick off until mid-month, but a few quarterly results of note will highlight this otherwise quiet week. Constellation Brands, Inc. (NYSE: STZ), Monsanto Company (NYSE: MON) and Walgreens Boots Alliance Inc (NASDAQ: WBA) are on deck to share their latest numbers.
The analysts' consensus forecast calls for the leading beer, wine and spirits purveyor to show year-over-year growth on the bottom line for the period when it said it was considering expanding into marijuana. The agricultural products giant may have swung to a tiny profit as its merger with Bayer proceeds. And a merger is on the minds of the leading drug store operator as well, as it has been looking to divest stores to make its tie-up with Rite Aid happen. Marginal growth will be seen in its report, if it lives up to expectations.
Below is a quick look at what is expected from the results of these three, as well as a peek at a few of the other upcoming quarterly reports.
Constellation Brands
The fiscal third-quarter profit of this purveyor of Corona, Svedka and many other brands is anticipated to come in at $1.71 per share, which is nearly a 20 percent gain from the year-ago period, according to Wall Street analysts. The consensus of 22 Estimize respondents has earnings pegged at $1.72 per share. Note that both Wall Street and Estimize underestimated earnings in recent quarters.
In Thursday morning's report, analysts also are looking for $1.80 billion in revenue for the three months that ended in November, compared with the $1.79 billion that Estimize predicts. Here too, the results in the past few quarters have surpassed Wall Street and Estimize estimates.
Monsanto
In its report before Thursday's opening bell, this maker of genetically engineered seeds is expected to say it had a net loss of $0.02 per share in its fiscal first quarter, according to Estimze. That would compare to a net loss of $0.11 per share a year ago. Wall Street is a bit more optimistic, with a consensus estimate of $0.01 in earnings per share. Monsanto blew out EPS estimates in the previous quarter.
Estimize underestimated revenue in the previous quarter, and this time the three respondents are looking for $1.45 billion. That would be down from $2.22 billion in the same period of last year, as well as the lowest quarterly revenue in two years. The Wall Street also underestimated the top line in the previous quarter.
Walgreens
The consensus Wall Street forecast calls for this Walgreens and Boots pharmacies operator to post fiscal first-quarter EPS of $1.09 (up $0.06 from in the same period of last year) but for revenue to have ticked up less than 1 percent to $29.24 billion in the period. Note that analysts overestimated the top line and underestimated the bottom line in the past six quarters.
Estimize is a bit more optimistic on the bottom line, with the consensus of 18 respondents pegging EPS at $1.11, with revenue of $29.32 billion also expected for the three months that ended in November. Estimize has likewise underestimated earnings results in recent quarters. Walgreens is scheduled to share its latest results before trading begins on Thursday.
And Others
Other reports to watch for before the fourth-quarter reporting season gets into full swing include AZZ, PriceSmart and United Natural Foods, all of which are forecast to show year-on-year earnings growth. On the other hand, shrinking earnings are anticipated from Greenbrier Companies and Helen of Troy.
The new earnings season really begins when the big banks line up to share their fourth-quarter results, starting with Bank of America, JPMorgan and Wells Fargo on January 13. So far, at least a little growth on the top and/or bottom line is anticipated from each of them.
Keep up with all the latest breaking news and trading ideas by following Benzinga on Twitter.
View Comments and Join the Discussion!
Posted-In: Constellation Brands Monsanto Walgreens Walgreens Boots AllianceEarnings News Previews Trading Ideas Best of Benzinga