Earnings Preview: Coke Vs. Pepsi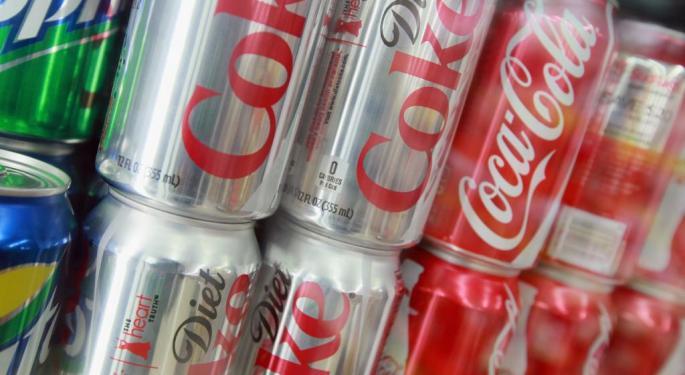 Rival soft drink giants are due to step into the earnings spotlight this week.
Analysts are looking for top and bottom line declines from both of them.
However, both have exceeded earnings estimates in the past few quarters.
Among the most anticipated reports this week are those from long-time rivals The Coca-Cola Co (NYSE: KO) and PepsiCo, Inc. (NYSE: PEP).
In an age of changing consumer tastes, ongoing economic sluggishness and a strong U.S. dollar, how did these beverage giants fared during the period that included the holidays? Wall Street analysts don't seem to be expecting much, though they have underestimated earnings in recent quarters.
Below is a quick look at what is expected from the reports of Coca-Cola and PepsiCo. That is followed by a quick peek at some of the week's other most anticipated consumer-related earnings.
Coca-Cola
Wall Street's fourth-quarter forecast for Coke calls for earnings per share to have drooped from $0.44 in the year-ago period to $0.37. However, the consensus of 58 Estimize respondents sees a profit of $0.39 per share. Note that Estimze did overestimate EPS in most recent quarters, while Wall Street estimates were too low.
Revenue fell short of consensus estimates in the third quarter. This time, Estimize is looking for about $9.93 billion, which is just a tad more than the $9.91 billion Wall Street expects. Coke posted $10.90 billion in revenue a year ago.
The company is scheduled to report before Tuesday's opening bell.
See also: Rising Expectations For Disney, Time Warner Earnings
PepsiCo
When this beverage and snack giant shares its results early Thursday, the consensus Estimze forecast is that it will show a profit of $1.09 per share for the fourth quarter. That would be down from EPS of $1.12 in the same period of last year, as well as the $1.35 posted in the previous quarter. Wall Street is looking for just $1.06.
Note the Wall Street EPS estimate for the quarter is unchanged in the past 60 days for Pepsi, though it has ticked down by a penny for Coke.
Revenue for the three months that ended in December will be $18.67 billion, or down around 7 percent year-over-year, if the 31 survey respondents are correct. Wall Street is again a bit more pessimistic, with an estimate of $18.51 billion, and full-year revenue is forecast more than 5 percent lower to $63.06 billion.
And Others
CBS, CVS Health, GNC Holdings, Goodyear Tire, Hasbro, Pandora Media, Tesla Motors, Time Warner, Walt Disney and WhiteWave Foods are among the companies that Wall Street analysts expect to show earnings growth this week.
Consensus forecasts have quarterly EPS at Twitter and Zynga the same as in the year-ago period.
Earnings declines are in the works for Activision Blizzard, Avon Products, Groupon, Kellogg, Molson Coors, Nu Skin Enterprises, Pilgrim's Pride, Twenty-First Century Fox, Viacom and Whole Foods, as well as a net loss for Yelp, if the consensus forecasts are correct.
At the time of this writing, the author had no position in the mentioned equities.
Keep up with all the latest breaking news and trading ideas by following Benzinga on Twitter.
Posted-In: Coca-cola Pepsi pepsicoEarnings News Previews Trading Ideas Best of Benzinga
View Comments and Join the Discussion!