SolarCity, Wal-Mart & Deere Highlight This Week's Top Earnings Reports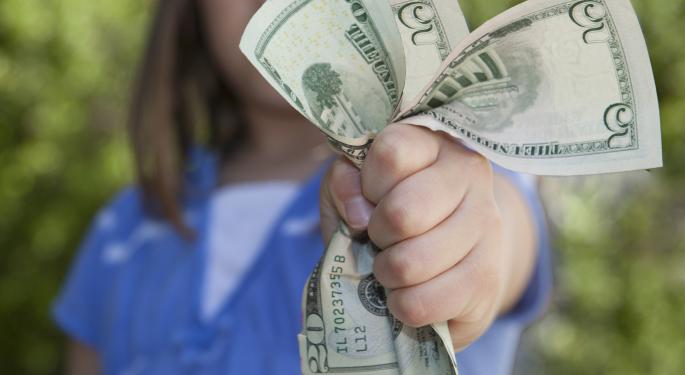 Wal-Mart Stores, Inc. (NYSE: WMT) kicks off the latest round of earnings from the big retailers. Some big gold companies will also take their turns in the earnings spotlight this week.
Analysts expect to see year-over-year earnings declines from both Wal-Mart and Barrick Gold Corporation (USA) (NYSE: ABX).
Some of the week's other most anticipated quarterly reports will come from Deere & Company (NYSE: DE) and Frontier Communications Corp (NASDAQ: FTR), also with shrinking earnings forecast, as well as SolarCity Corp (NASDAQ: SCTY) and its anticipated net loss.
Let's take a quick look at the numbers for these and at what is expected from some of this week's other most prominent quarterly reports.
Barrick Gold
The fourth-quarter forecast for this Canadian gold miner calls for the earnings per share (EPS) to have fallen from $0.37 in the year-ago period to $0.13. Revenues for the period that ended in December are expected to have declined more than 15 percent to $2.48 billion in Wednesday afternoon's report.
For the full year, EPS are expected to have declined around 75 percent to $0.65 on revenue that was more than 19 percent lower to $10.08 billion. Unlike the quarterly EPS estimate, which has remained the same in the past 60 days, the full-year estimate has ticked down by a couple of pennies in that time.
Fellow gold and other miners Eldorado Gold, IAMGOLD and Newmont Mining are also forecast to have shrinking earnings, while those from Hecla Mining will be breakeven, the same as a year ago. A bigger net loss than a year ago is anticipated from Coeur Mining, but analysts believe Goldcorp will manage to show earnings growth this week.
See also: The 2 Best Gold Stocks, According to Credit Suisse
Deere
When it shares its results first thing Friday, this agriculture and construction equipment maker is expected to say earnings for the most recent quarter came in at $0.82 per share. That would be well down from $1.81 in the year-ago period. However, note that analysts underestimated EPS by more than 34 percent in the previous quarter.
The consensus forecast for the Illinois-based company also calls for revenue to be down more than 19 percent from a year ago to $5.59 billion for the fiscal first quarter. So far, the consensus forecast calls for sequential gains on the top and bottom lines for the current quarter, but further declines year over year.
Frontier Communications
In its report late Thursday, this leading telecom and wireless provider is expected to say that per-share earnings slipped a couple of pennies from in the year-ago quarter to $0.05 for the three months that ended in December. That consensus EPS estimate is unchanged from 60 days ago.
Revenues for the fourth quarter are predicted to be more than 13 percent higher to $1.34 billion, relative to the same period of last year. Full-year revenue is expected to be essentially flat, but with EPS down more than 20 percent. Sequential and year-on-year gains are expected for the current quarter on the top and bottom lines.
SolarCity
Analysts expect this solar energy powerhouse to say that it had net loss of $1.27 per share in its most recent quarter. That would compare to a loss of $0.46 per share in the year-ago period. However, revenues for the fourth quarter are forecast to have risen more than 51 percent to $71.75 million.
The anticipated net loss of $3.77 per share for the full year would also be deeper, but on sales that are up more than 54 percent to $253.41 million. The San Mateo, California-based company is scheduled to report its results Wednesday after the end of the regular trading session.
SunEdison also reports late Wednesday, but the forecast calls for a smaller loss for the quarter.
Wal-Mart
The forecast for the world's largest retailer calls for a profit of $1.53 per share and for revenue to come to $132.32 billion for its most recent quarter. In the year-ago period, the company posted EPS of $1.60 and sales totaled $129.71 billion. EPS beat consensus estimates in just two of the past four quarters, and then by three cents per share or less.
The full year EPS are estimated at $4.99, which would be down less than 3 percent, on revenue of $486.59 billion, which would be more than 2 percent higher. Look for the company to release its results Thursday before the opening bell.
The other sizable retailer posting its results this week is Nordstrom, which is also expected to show an earnings decline, relative to a year ago.
See also: Brian Sozzi: Is Best Buy The Next RadioShack? No Way!
And Others
Other companies that analysts anticipate will show earnings growth this week include the following:
Broadcom
Cabot Oil & Gas
Hilton Worldwide
Medtronic
MGM Resorts
Nabors Industries
Vipshop Holdings
Williams Companies
Yandex
However, EPS at the following will be lower than a year ago, if the consensus forecasts are accurate:
Devon Energy
Duke Energy
Goodyear Tire & Rubber
Marathon Oil
Marvell Technology
Other big retailers are scheduled to share their most recent results the following week, including Dollar Tree, Gap, Home Depot, J.C. Penney, Macy's and Target.
Keep up with all the latest breaking news and trading ideas by following Benzinga on Twitter.
Posted-In: barrick gold Deere Frontier CommunicationsEarnings News Previews Pre-Market Outlook Trading Ideas
View Comments and Join the Discussion!