Earnings Expectations For The Week Of November 24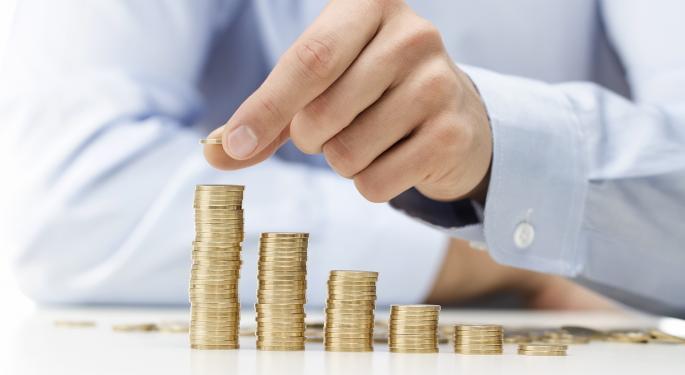 In a week shortened by the Thanksgiving holiday, there will still be plenty of earnings reports for investors and analysts to mull over. Perhaps most prominently, Hewlett-Packard Company (NYSE: HPQ) is expected to say that its per-share earnings were higher, both sequentially and year over year, in its most recent quarter.
Other highlights of the week include reports from Brocade Communications Systems, Inc. (NASDAQ: BRCD), Deere & Company (NYSE: DE), Seadrill Ltd (NYSE: SDRL) and Trina Solar Limited (NYSE: TSL). Analysts are looking for earnings declines from the former two, and earnings growth from the latter two.
Here is a closer look at these and some of this week's other most anticipated quarterly reports.
See also: This Pulitzer Prize Winner Says Wall Street Hasn't Changed Since The Financial Crisis
Brocade Communications
The fiscal fourth-quarter forecast for this data and storage networking company calls for earnings per share (EPS) to have ticked down from $0.24 in the year-ago period to $0.23 in Monday afternoon's report. Revenues for the period that ended in October are expected to be barely higher to $562.19 million.
For the full year, analysts are looking for 10 percent growth in EPS to $0.89, while revenue is essentially flat, relative to a year ago, at $2.21 billion. They seem certain, as consensus earnings estimates for both the full year and the quarter are unchanged in the past 60 days and the ranges of individual targets are narrow.
Deere
In its report early Wednesday, this maker of farm and construction equipment is expected to say that earnings fell more than 25 percent from in the year-ago quarter to $1.57 per share for the three months that ended in October. Note though that EPS topped consensus estimates in the past four quarters.
Revenues for the third quarter are predicted to be more than 10 percent lower to $7.73 billion, relative to the same period of last year. So far the consensus forecast for the current quarter has revenue more than 8 percent lower but per-share earnings down more than 37 percent.
Hewlett-Packard
Analysts expect this tech giant to say that it had a profit of $1.06 per share in its most recent quarter. That would be up from $1.01 in the year-ago period. Revenues are forecast to have slipped more than 1 percent from a year ago to $28.76 billion for the three months that ended in October.
The consensus EPS estimate is the same as it was 60 days ago, and HP has not fallen short of expectations for earnings in the past four quarters. The Palo Alto, California-based company is scheduled to report its results Tuesday after the U.S. markets close.
Seadrill
When it posts its results first thing Wednesday, this offshore drilling company is expected to say earnings for the most recent quarter were $0.67 per share. That would be more than 13 percent higher than in the year-ago period. EPS fell short of expectations in three of the past four quarters.
The consensus forecast also calls for revenue to be down about 4 percent from a year ago to $1.23 billion for the third quarter. So far, the estimates for the current quarter suggest an even bigger decline on the top line but accompanied by strong growth in net income.
Trina Solar
The forecast for this China-based solar-power products calls for earnings of $0.15 per share and for revenue to come to $645.68 million for its third quarter. In the year-ago period, the company posted EPS of $0.14 and revenue totaled $548.39 million. The consensus EPS estimate 60 days ago was $0.17.
Sequential and year on year growth are forecast for both the top and bottom lines for the current quarter. For the full year, analysts so far are looking for strong results relative to a year ago. Look for Trina Solar to share its results Monday before the opening bell.
See also: Why Steve Jobs Might Be 'Spinning In His Grave' This Black Friday
And Others
Other quarterly reports expected to show earnings growth this week include those from Analog Devices, Campbell Soup, E-Commerce China Dangdang, Palo Alto Networks, Qihoo 360 Technology, ReneSola and Tiffany. However, shrinking earnings are anticipated from Chico's FAS, Ctrip.com, DSW, Movado, Nuance Communications, Signet Jewelers and TiVo. Analysts are looking for net losses from Navios Maritime and Workday.
Keep up with all the latest breaking news and trading ideas by following Benzinga on Twitter.
Posted-In: brocade communications Deere hewlett-packard SeadrillEarnings News Previews Trading Ideas Best of Benzinga
View Comments and Join the Discussion!