Google's Earnings Disappoint, But The Stock Doesn't!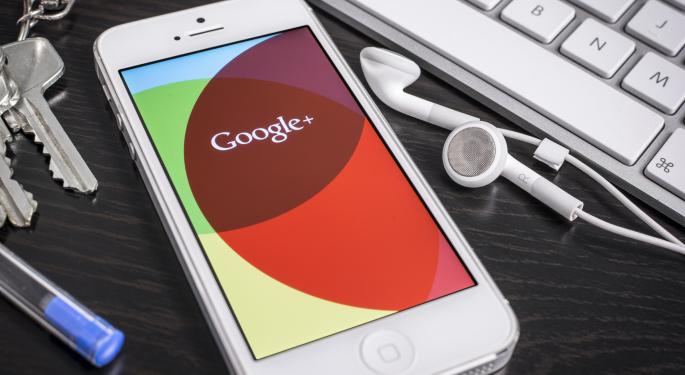 After Google's (NASDAQ: GOOG) big news Wednesday that the company had sold off its Motorola Mobility business to Lenovo Group (OTC: LNVGY) for $2.9 billion, the search engine behemoth announced its earnings for its fiscal fourth quarter of 2013 Thursday after the bell.
All in all, the report wasn't very exciting.
The company reported fourth-quarter revenue of $16.86 billion, which is an increase of 17 percent, to $14.07 billion, over the same quarter last year.
Net revenue was $13.55 billion, up from $11.34 billion. Net income rose 17 percent to $3.38 billion, or $9.90 a share. Excluding the cost of stock options and related tax benefits, Google's profit was $12.01 a share, up from $10.65 a year ago.
Analysts, as polled by Thomson Reuters, had expected revenue of $16.75 billion and earnings, excluding the cost of stock options, of $12.26 a share. Google also reported that its board had approved a stock dividend.
Considering that the Mountain View, California-based company reported one of its best quarters in years this past October, this most recent quarter was somewhat of a disappointment.
In its core business, Google's paid clicks were up 31 percent in Q4, which was better than what analysts had expected. However, the cost-per-click was down 11 percent, which was worse than predicted.
Strangely enough, the stock was up almost five percent in after-hours trading. That jump is on top of the 2.5 percent gain the stock had already logged during the regular trading session.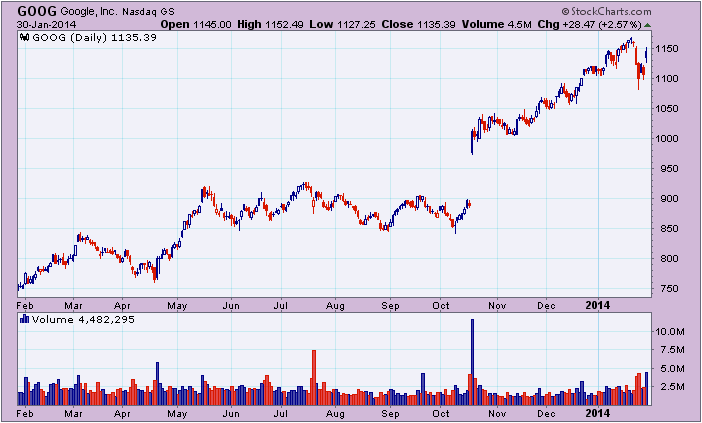 Google had started 2013 at around $700 a share and has climbed more than 50 percent since then, the bulk of which came on the heels of last October's earnings release.
The stock's 52-week and all-time high was reached earlier this month at $1167. Thanks to this current report, and assuming the after-hours gains hold into tomorrow's trading session, Google will hit yet another all-time high.
At this point it would appear that whether it be a good earnings quarter, or a subpar quarter, Wall Street loves Google.
Next up, $1,200 a share?
Posted in: Earnings News Dividends Movers & Shakers Hot After-Hours Center Movers Tech Best of Benzinga