Zynga Earnings Preview- How Bad Will it Be?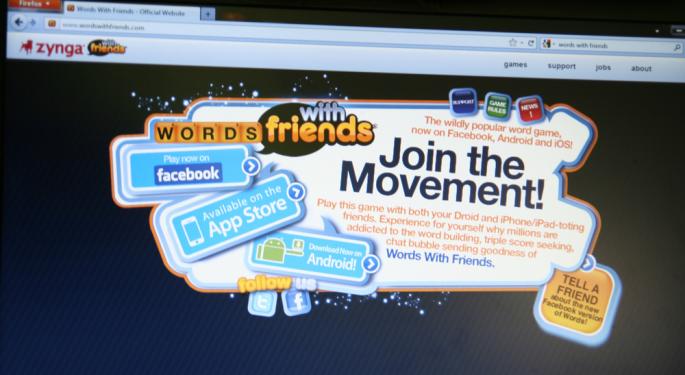 Investors and social media junkies hope that Zynga (NASDAQ: ZNGA) isn't an example of the long-term viability of social media stocks. Since 2012, the stock is down 76 percent.
On Wednesday, the company will report Q1 2013 earnings after the closing bell with a conference call set for 5:00 p.m. EST.
Expectations
Analysts expect the company to report EPS of -$0.04—down from a positive six cents per share one year prior and down from analyst expectations of $0.01 per share three months ago. Revenue is expected to come in at $209.79 million marking a year over year decline of 36 percent.
Analysts will look closely at Zynga's non-GAAP metric it calls bookings. Bookings are purchases made while playing a game. If you purchased a cow while playing Farmville, you added to Zynga's bookings metric.
Analysts expect bookings to come in a $209.7 million—a 36 percent drop year over year.
The Bull Case
As of now, the bull case is a whole lot of speculation. As the company detaches itself from Facebook (NASDAQ: FB), it will have to prove to investors that its popularity didn't come from being integrated with a social media platform with billions of users.
The company recently announced a real money gambling venture in the U.K. where it will split revenues with an already-established U.K. gambling site. (Attaching itself to another company—sound familiar?) If Zynga finds solid footing in this space, and the United States makes online gambling legal at the federal level, there's little doubt that this would be a lucrative market for the company.
To be fair, if investors are going to give Apple (NASDAQ: AAPL) some latitude for being between product cycles right now, Zynga should get a little of the same consideration. As the company transforms from "that Facebook game company" to a platform that stands on its own, things will be torn down before they're built back up.
The Bear Case
Its venture into real money gambling would put it ahead of other companies if the United States approves it for all states but there's no indication that it will happen anytime soon. For now, individual states are passing laws approving online gambling but not even a handful have said yes. Zynga has indicated that it isn't interested in navigating individual state laws so don't count on any big revenues from real money gambling in the near-term.
The other problem is one of perception. Zynga, like many tech companies before it, feels a lot like a one or two hit wonder. Farmville was the buzz but now, none of Zynga's games are the phenomenon they once were. That could change but in the gaming business, if people aren't talking, you're probably not selling.
Technical Analysis
The good news is that the company has seen a 28 percent gain over the past three months. The less than exciting news is that the stock topped out at $4 and has since given back 20 percent. Percentages are often magnified when looking at single digit stock prices but as of now, Zynga is holding its 200 DMA. If it breaks below that level, chart action could get ugly.
Posted-In: Earnings News Guidance Technicals Management Events Global Tech Best of Benzinga
View Comments and Join the Discussion!