AMD is on Life Support While these Semiconductor Stocks Thrive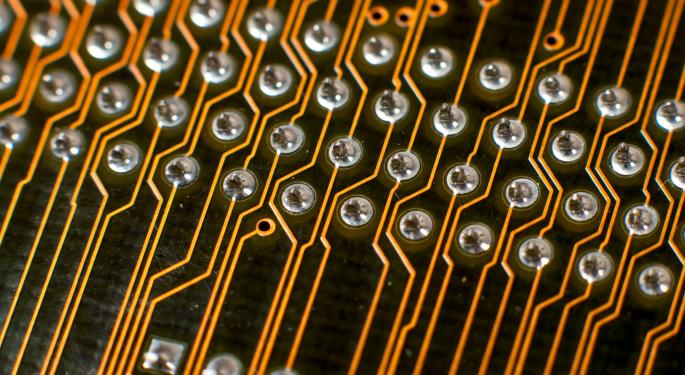 If they can do it, why can't Advanced Micro Devices (NYSE: AMD)? "They" includes Texas Instruments (NASDAQ: TXN) and NVIDIA (NASDAQ: NVDA), and "it" refers to finding success in a world where the PC is slowly dying.
Texas Instruments' earnings have grown each quarter since March 2012, with the company posting EPS of $0.22, $0.38, and $0.67, respectively.
Texas Instruments' renewed focus on higher margin analog and embedded chips with more than 45,000 products is one of the reasons for the company's recent recognition as a Thomson Reuters 2012 Top 100 Global Innovator. TXN develops semiconductor technology for energy harvesting, cloud computing, power management, health technology and more.
Its Q4 earnings announcement released on Tuesday showed profits of 36 cents per share with revenue of $2.98 billion. This beat analyst expectations of $2.95 billion and 34 cents per share. CEO Rich Templeton said that the company continues to operate in a "weak demand environment", according to NASDAQ. TI's Q1 forecast was slightly below analyst expectations. Since October the stock is up 23 percent.
NVIDIA has shown positive results as well, with EPS of $0.10, $0.19, and $0.33 since April 2012. Over the past few years, NVIDIA has reduced its reliance on the PC segment. Along with producing graphics processing units for PCs, the company provides semiconductors for supercomputers and produces chips for tablets, mobile phones, and automobiles.
On NVIDIA's Q3 conference call, Rob Csongor, vice president of investor relations said that in 2009, non-PC revenues were 7 percent of total revenues. In its most recently reported quarter, non-PC revenues grew to 30 percent. The stock is up 7 percent since mid-November.
Since March 2012, AMD has posted EPS of $0.80, $0.05, and -$0.21. Wednesday's Q4 earnings report listed EPS at -$0.14 per share with revenue topping analyst expectations. But the chipmaker's Q1 outlook called for revenue to decrease by 9 percent. Not exactly cheer-worthy.
AMD's woes begin with a decline in global PC shipments, but that's a shared problem in the semiconductor industry. Frequent leadership changes haven't helped. Then there were manufacturing glitches and lack of a significant solution to the drop in PC sales.
AMD bulls believe that the company is a little late to the party but it's working to diversify just as NVIDIA and TI have done. The company recently hired two senior engineers with experience at Qualcomm and Apple as it explores ways to break further into the communications and microserver technology.
At the 2013 Consumer Electronics Show, Vizio announced a new tablet that is powered by an AMD chip, proving that the company is making headway into the mobile market.
Whether the company waited too long to recognize consumers' increasing reliance on mobile technology is not clear yet but investors don't see a lot of hope. Although the stock has been up over the last month, over the past year it's down 62 percent.
Posted-In: AMD NVIDIA Rich Templeton Rob CsongorEarnings News Guidance Management Best of Benzinga
View Comments and Join the Discussion!