Mission Produce IPO: What Investors Should Know About The Avocado Distributor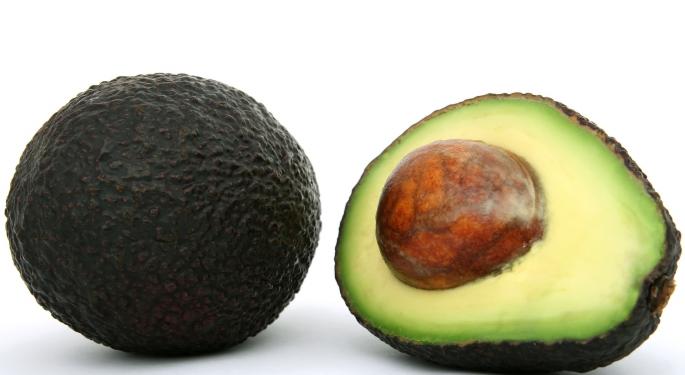 The largest producer and distributor of avocados is set to go public Thursday in a busy week of IPOs.
The Offering: Mission Produce Inc (NASDAQ: AVO) plans on selling 9,375,000 shares at a price point of $15 to $17.
The IPO includes the sale of 3,125,000 shares from existing shareholders. Executive officers will sell 2,263,491 shares in the offering. Their ownership stake will go from 55.4% to 46.4% after the IPO.
Founder and CEO Stephen Barnard will own 8.7% of the company after the IPO and is not selling any of his shares.
About Mission Produce: "We are a world leader in sourcing, producing and distributing fresh avocados, serving retail, wholesale and foodservice customers in over 25 countries," Mission said in an SEC filing.
Mission Produce has four packing facilities in the U.S., Mexico and Peru. The company has 11 distribution/ripening facilities in the U.S., Canada, China and the Netherlands.
The company has over 10,000 acres of land, with more than 8,300 acres that are producing avocados.
In 2019, Mission Produce distributed 559 million pounds of avocados, which was 58% more than its closest competitor.
The Avocado Market: The filing lists the global market size for avocados at $13.5 billion, with the U.S. market valued at $6.5 billion.
Mission Produce believes the U.S. market size will increase to $8 billion in 2023.
Avocado consumption is increasing in the United States. The country went from 1.1 billion pounds of annual consumption in 2008 to 2.6 billion pounds in 2018. Consumption is expected to grow at a compound annual rate of 5.5% from 2019 to 2023.
Trends like healthy eating, the "superfood" capabilities of avocados, a growing Hispanic population and increased consumption by millennials are all contributing to the higher consumption of the fruit in the U.S.
Food service use has also risen 26% over the last 10 years in the country.
Globally, the avocado market is expected to grow at a compound annual growth rate of 5.9% from 2018 to 2026.
Mission Produce Financials: Mission Produce reported revenue of $883.3 million in fiscal 2019. For the first nine months of fiscal 2020, the company posted revenue of $655.5 million.
The company reported net income of $72.4 million in fiscal 2019 and net income of $33.1 million for the first nine months of fiscal 2020.
Mission Produce's Growth Plans: Mission Produce said it plans on expanding its distribution network, leveraging its global supply chain to develop international markets, diversifying sourcing to increase year-round supply and continuing to vertically integrate the supply chain.
Mission Produce said it will open a new distribution/ripening center in Texas in the third quarter of 2021.
At 262,000 square feet, this new facility will be the company's largest in North America and will greatly increase the company's current North American distribution space of 667,000 square feet.
View Comments and Join the Discussion!
Posted-In: Mission Produce Stephen Barnard superfoodNews Previews IPOs Trading Ideas Best of Benzinga