What To Know About NASA And SpaceX's Crew Dragon Launch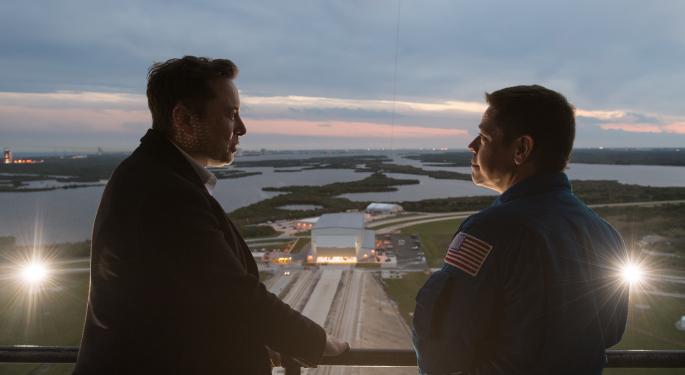 Elon Musk's SpaceX Falcon 9 was scheduled to launch the Crew Dragon Wednesday afternoon with two NASA astronauts on board.
Due to weather conditions, the launch has been delayed — or in space jargon, the launch is scrubbing. The next opportunity to launch will be Saturday, May 30 at 3:22 p.m. ET
Who Are The NASA Astronauts Involved In The Mission?
NASA astronauts Bob Behnken and Doug Hurley will be on board the Dragon spacecraft for the test flight.
The Falcon 9's launch of Crew Dragon's second demonstration (Demo-2) mission will launch from Launch Complex 39A (LC-39A) at NASA's Kennedy Space Center in Florida.
The coverage will begin four hours before liftoff.
What Is SpaceX's Demo 2?
Demo-2 is the final major test for SpaceX's human spaceflight system to be certified by NASA for operational crew missions to and from the International Space Station.
Why Is It Important?
If this mission is fulfilled it will be a huge milestone. SpaceX returning human spaceflight to the U.S. and NASA's Commercial Crew Program is a turning point for America's future in space exploration that lays the groundwork for future missions to the Moon, Mars and beyond.
Touchdown Time
Once the mission is completed, the plan is for the Crew Dragon to autonomously undock with the two astronauts on board the spacecraft and depart the Space Station.
After jettisoning the trunk and conducting its deorbit burn, which lasts approximately 12 minutes, Dragon will re-enter Earth's atmosphere.
Upon splashdown just off Florida's Atlantic Coast, Dragon and the astronauts will be quickly recovered by SpaceX's Go Navigator recovery vessel and returned to Cape Canaveral.
The astronauts are scheduled to arrive at the International Space Station in their SpaceX Crew Dragon spacecraft at approximately 11:29 a.m. EDT on May 28, according to Space.com.
Three Launch Time Slots
According to SpaceX, the launch window opens at 4:33pm EDT, with backup opportunities available on Saturday, May 30 at 3:22 p.m. ED and on Sunday, May 31 at 3 p.m. EDT.
Related Links:
Virgin Galactic Reports Q1 Earnings, Secures NASA Space Contract
Blue Origin, SpaceX Land NASA Deal
SpaceX CEO Elon Musk and NASA astronatu Bob Behnken prior to the March 1, 2019 launch of the Demo-1 mission at the Kennedy Space Center. NASA photo by Joel Kowsky.
View Comments and Join the Discussion!
Posted-In: Elon Musk Falcon 9 NASA SpaceXNews Events Media Best of Benzinga