Mark Cuban Channels Bernie Sanders: 'It's Time For Trickle Up Economics'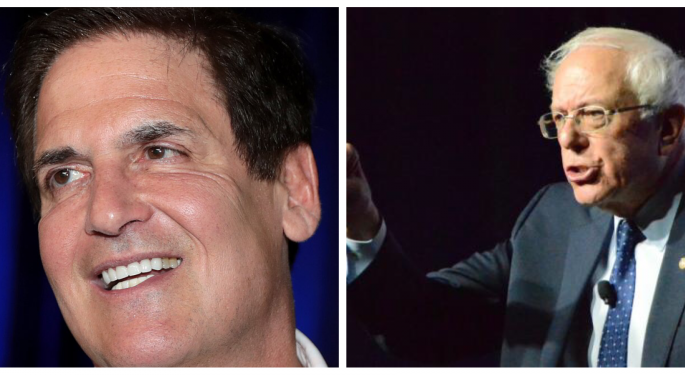 On Friday, the House of Representatives passed another $3-trillion stimulus package that includes a second round of direct payments to Americans. In a series of tweets on Sunday, billionaire investor and "Shark Tank" personality Mark Cuban said steering stimulus toward consumers is the right approach to heal the economy, and added that the massive Paycheck Protection Program has been a flop.
"It's time to face the fact that PPP didn't work," Cuban said.
Cuban Says Consumer Demand Is Critical
The idea of lending government money to small businesses to get them through the crisis was a solid idea, but consumer demand will ultimately be the only thing that will save struggling businesses, Cuban said.
"No amount of loans to businesses will save them or jobs if their customers aren't buying," he said.
Instead, Cuban proposed his own "trickle up economics" plan, a phrase popularized by former Democratic presidential candidate Bernie Sanders.
Cuban's Numbers
Cuban's plan involves sending all 128 million U.S. households a $1,000 check every two weeks for the next two months that must be spent within 10 days of receipt.
"This 'use it or lose it' prog will cost about $500 b, but it will allow for demand for non essential products and services to increase, hopefully keeping most businesses alive, as we learn what the impact of re-opening is on the spread and whether or not employment grows organically," Cuban said.
It's time for trickle up economics. We need a transitional fed jobs program that trains and hires millions for a federal tracking/tracing/testing program as well as for support for at risk populations including long term care. We need to dent unemployment with stable jobs

— Mark Cuban (@mcuban) May 17, 2020
Congress has already issued two rounds of forgivable PPP loans to small businesses totaling $764 billion. In addition, the IRS has paid out more than $218 billion in stimulus checks and payments.
Cuban's weekend tweets come after the Dallas Mavericks owner proposed "use it or lose it" debit cards in an interview with CNBC on Friday.
With the SPDR S&P 500 ETF Trust (NYSE: SPY) up more than 31% since March 23, Cuban said stocks are overvalued given that it's impossible to predict near-term consumer and corporate demand.
Benzinga's Take
One of the arguments against direct payments to Americans as a stimulus approach is the idea that many Americans will just set aside that money as savings rather than spend it to benefit the economy. However, Cuban's "use it or lose it" proposal would seemingly solve that potential problem.
Do you agree with this take? Email feedback@benzinga.com with your thoughts.
Related Links:
Q1 13F Roundup: How Buffett, Einhorn, Ackman And Others Adjusted Their Portfolios
Mark Cuban On Consumer Demand, Small Businesses Dilemma And Market Uncertainty
Mark Cuban photo by Gage Skidmore via Wikimedia. Benzinga file photo of Bernie Sanders.
View Comments and Join the Discussion!
Posted-In: Bernie Sanders Coronavirus Covid-19 Mark CubanNews Politics Economics General Best of Benzinga