Mary Barra Hopes GM Will Be Considered A Tech Company In The Near Future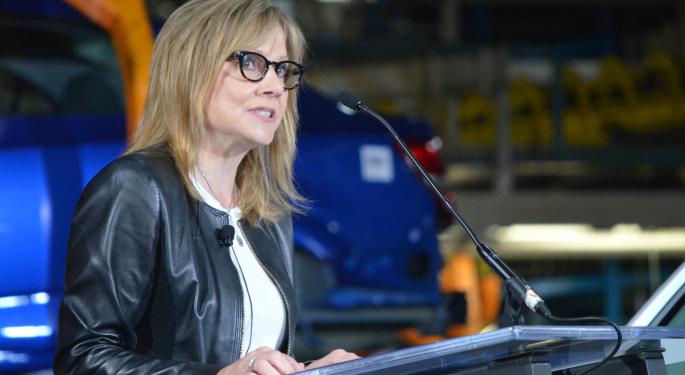 CEO and chairman of General Motors Co. (NYSE: GM), Mary Barra spoke Monday morning to the attendees of the CityLab Conference in Detroit on the future of GM and the future of the auto industry.
Rise Of Technology
As technology greatly impacts the economy on a global scale, it comes as no surprise the extent of its impact on the auto industry, Barra said. The rise of electric vehicles and technology-based transportation will change the future of the environment, driver safety and parking.
When asked about the comparison between GM and Tesla Inc. (NASDAQ: TSLA), Barra views the Detroit-based automaker as a "100-year company" with consistent excitement and innovation.
"We need to tell more of what innovation we're doing, and how aggressively we're pursuing electric vehicles and our commitment to the environment. There's still this story to be told but because of what happened a decade or so ago, a lot of people lost that trust in us," Barra said.
Climate Change
GM places significance on recognizing and understanding climate change and its effect on the auto industry.
"We believe in climate change," Barra said. "Since I have been the leadership staff, we never question it. We knew we were on a path of autonomous vehicles and fossil fuels, as well. Zero crashes, zero emissions and zero congestion, because for a lot of people, the most important currency is time."
GM produces both the Chevrolet Volt and the Chevrolet Bolt, which was known as the first affordable all-electric vehicle, according to Barra. She anticipates a very aggressive rollout between now and 2023 as the company executes on a new platform. GM aims to be "attainable, desirable and profitable within the right range."
Barra hopes GM will someday be considered a technology company: "That's the goal. That's what drives me."
Autonomous Vehicles
Technology is the most difficult aspect of the change, according to Barra.
"This is the biggest technological challenge we'll face this decade," she told the crowd. "Once we establish that in 2019, it becomes how fast you can roll it out and how the regulatory environment allows you to do it. The vehicle continues to learn and will then expand the boundaries of where you can operate. This will impact many cities across the globe in a short amount of time, single digits."
Barra believes once the country develops a strong infrastructure, there will be a significant amount of these vehicles on the road, driven by the proactive focus on development and innovation.
"It should be a call of action for all of us to do this."
Related Links:
GM's Cruise, Honda Team Up On Autonomous Vehicle Development
Goldman Sachs Upgrades Ford To Buy, Restructuring Plan Yields Favorable Opportunities
General Motors CEO Mary Barra in June 2017. Photo by Dustin Blitchok.
View Comments and Join the Discussion!
Posted-In: autonomous vehicles Chevrolet Bolt chevrolet volt CityLabNews Events Top Stories Tech Best of Benzinga