The Upwork IPO: What You Need To Know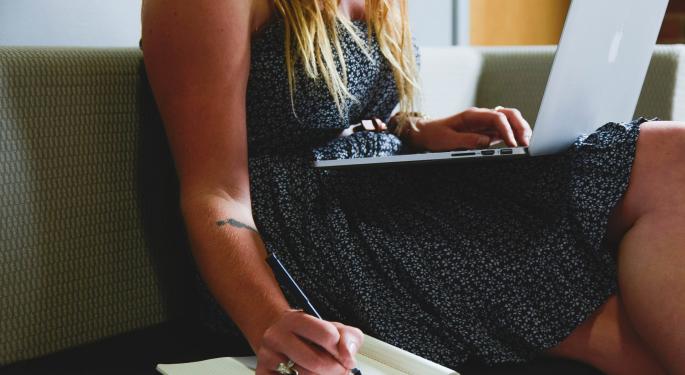 Global freelancing company Upwork recently filed for an IPO. The company plans to trade on The Nasdaq Global Market under the ticker symbol "UPWK."
The Details
Some of the company's main underwriters include Citigroup, Jefferies, Stifel and RBC Capital Markets.
Based on company data, Upwork has reported gross services volume of $1.5 billion, as well as over $225 million in revenue. Upwork serves more than 95,000 core clients in 180 countries, spanning over 70 job categories, according to its S-1 filing with the Securities and Exchange Commission.
Upwork services are utilized by companies such as Dropbox, Inc. (NASDAQ: DBX), Zendesk Inc. (NYSE: ZEN) and Airbnb.
The Service
Upwork is a freelance service that offers resources for both companies looking to hire and freelancers looking for work. Some of the hiring categories include positions for writers, developers, marketing experts and designers. The company aims to give access to high-quality freelancers without relying on intermediaries.
"Every day, an average of approximately 10,000 independent professionals and agencies apply to join our platform. We leverage machine learning to automatically accept the registrations of high-quality, in-demand talent," the SEC filing said. "As of February 2017, over 80 percent of freelancers using our platform held a college degree or advanced degree, with 34 percent holding a post-graduate degree, according to an internally-conducted survey."
Using unique data assets, the company's database comprises dynamic information such as skills, feedback and overall career success.
"Moreover, our machine learning algorithms leverage our closed-loop transaction data on millions of completed projects. The large volume of transactions on our marketplace allows us to continually improve the effectiveness of our search algorithms and product features, providing a compelling and differentiated value proposition for both new and existing freelancers and clients," Upwork said.
Investors interested in Upwork should refer to the full company filing here.
The company priced the 12.3-million share IPO between $12 and $14 per share. It's scheduled to debut on Wednesday, Oct. 3
Related Links:
What This Analyst Expects From Dropbox's Q1
Spotify Is Going Public: What Does It Mean For The Music Business?
View Comments and Join the Discussion!
Posted-In: Airbnb Citigroup freelance Jefferies RBC Capital Markets StifelNews IPOs Best of Benzinga