GDP Notches Strongest Growth Since 2014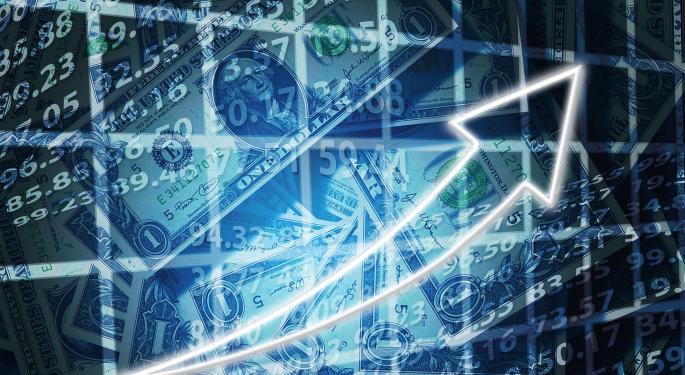 As economists predicted, the U.S. economy surged in the last earnings period.
What Happened
Gross domestic product posted the strongest quarter of growth since 2014, with the second quarter's 4.1-percent annual rate accelerating from the first quarter's 2.2 percent, according to the Commerce Department's initial estimates.
Soybean shipments led a 9.3-percent increase in exports, consumer spending spiked 4 percent, consumer prices popped at a 1.8-percent annual rate, federal spending rose 3.5 percent, and, according to President Donald Trump, the trade deficit dropped by $52 billion.
Meanwhile, private investment dipped, personal income decelerated from a $215.8-billion rise in the first quarter to $183.7 billion in the second, and disposable personal income growth decelerated from 7 percent to 4.5 percent.
Why It's Important
Touting the sustainability of the growth, Trump said the pace could create $10 trillion of new American wealth over the next decade.
"The U.S. economy will double in size almost 10 years faster than it would have under President Bush or President Obama," Trump said at a press conference.
Notably, GDP growth had not topped 4 percent since 2014, and the Obama administration only struck or surpassed that level four times in 32 quarters. The numbers are strong relative to recent U.S. performance, and they also compare well against foreign partners.
"It's a strong quarterly number and one that confirms that the U.S. economic growth will continue to outpace other advanced economies," economist Mohamed El-Erian told Benzinga.
The strength is seen to justify a rise in Federal Reserve rates, said Joe Brusuelas, chief economist at RSM US LLP.
"The growth data will likely reinforce the Fed's rate forecast, and pending any escalation of the trade conflict, this data just about guarantees two rate hikes of 25 basis points at the September and December FOMC meetings."
What's Next
The president said the GDP growth rate can be replicated.
"The most important thing [...] is that these numbers are very, very sustainable," Trump said. "This isn't a one-time shot. I happen to think we're going to do extraordinary well in our next report. We've accomplished an economic turnaround of historic proportions."
Economists disagree.
"The economy is not likely to experience a sustained period of 4-percent growth, much less 3 percent. Forward-looking investors, CEOs and CFOs should anticipate brisk, albeit slowing growth over the next 12-18 months before the economy approaches [what] we call 'Fiscal Cliff II: The Sequel' late in 2019," Brusuelas said.
His peers expect growth to slow in the second half as the conditions driving second-quarter performance dissipate, particularly aggressive federal spending, temporary tax reform benefits and the export boom inspired by tariff-wary foreign buyers stockpiling American goods.
"We're getting explosive growth in the second quarter because of trade," Ellen Zentner, chief United States economist for Morgan Stanley, told The New York Times. "You've got a big hole on the other side of that."
El-Erian forecasts growth of about 3 percent after the benefits of one-off factors are exhausted.
Related Links:
Trump, EU Agree On Concessions To Avoid Trade War
Is There A Disconnect Between Earnings Growth And GDP Growth?
View Comments and Join the Discussion!
Posted-In: GDPNews Futures Econ #s Top Stories Markets Best of Benzinga