What Does Space Sound Like? 'Spheres,' An Oculus VR Movie Series, Explores The Sounds Of The Universe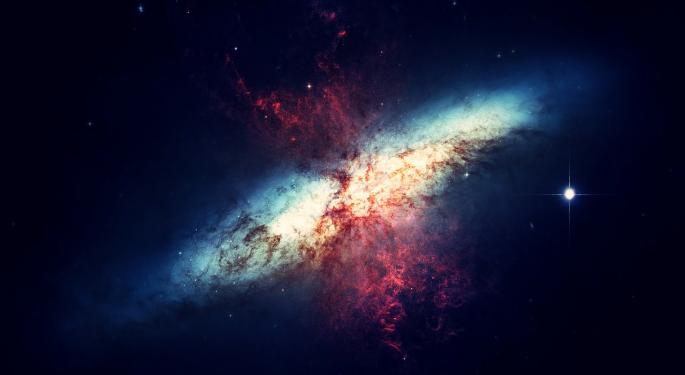 "Spheres," a three-part virtual reality series set to debut on the Facebook, Inc. (NASDAQ: FB)-owned Oculus Rift VR headset, uses the technology to give viewers a sense of what it feels and sounds like to be in space.
"Spheres" closed a seven-figure deal with CityLights after its premiere at the Sundance Film Festival early this year.
Wired called the series "a rich, slightly disorienting look at what it's like to be there when two black holes collide."
"This will be a first of a kind as a virtual reality experience about space. Virtual reality is the perfect medium for space exploration because we dream of floating through the stars and VR is the only way we can feel as if we are there," "Spheres" Director Eliza McNitt told Benzinga at Comic-Con International in San Diego.
VR Allows Viewers To 'Become' Space
The production of "Spheres" channels frequencies that are naturally occurring in space and translates them into music in a way that humans can hear, the director said.
"There are vibrations in space that can create sound and we are exploring the different versions of that, that exist," McNitt said.
The goal of the VR series was to create a world of sound that allows people to experience space, she said.
"You are transformed into a star as you fall into a black hole and ripped into 'spaghettification,'" McNitt said of the viewer experience. "You find a bright piece of light where space and time no longer exist. The beauty of VR is that you don't just get to see space and look at it from afar, you get to feel it and you get to become it."
Space Music
The series stars Jessica Chastain as narrator and, in one episode, punk rocker and poet Patti Smith as the voice of the universe. "Spheres" is set to debut on the Oculus Rift in the fall.
"Oculus is the perfect platform for this type of storytelling, because they believe in the creators and the experiences they are developing," McNitt said. "They have put so much support behind us and enable us to bring a weird tale of space exploration to life."
Benzinga asked the director what space music sounds like.
"It sounds alien," she said. "It's eerie, haunting and mysterious — foreign to our language of music."
Related Links:
Analyst: Negative Press, Privacy Scandal Won't Keep Facebook From Having A Solid Quarter
BTIG Raises Facebook Price Target By More Than 50%, Says Instagram Becoming 'Most Powerful, Valuable Mall In The World'
Posted-In: Comic-Con Eliza McNitt Jessica Chastain Oculus Rift Patti SmithNews Exclusives Interview Best of Benzinga
View Comments and Join the Discussion!