Elon Musk Says He'll Fund Fixing 'Any House' In Flint With Contaminated Water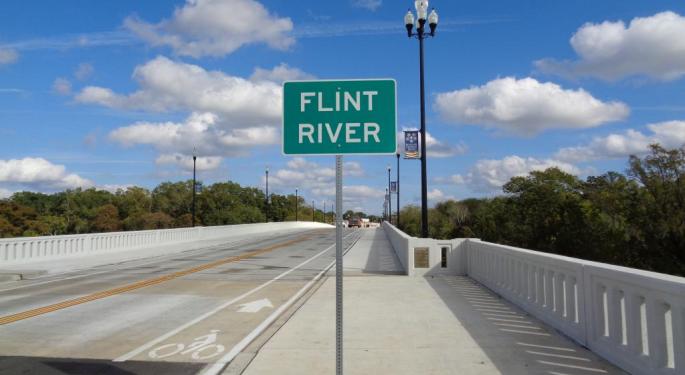 Tesla Inc (NASDAQ: TSLA) CEO Elon Musk is a busy man, and he just added another task to his plate.
What Happened
Responding to a tweet about getting clean water to Flint, Michigan, Musk replied, "Please consider this a commitment that I will fund fixing the water in any house in Flint that has water contamination above FDA levels. No kidding."
He said in another tweet, "For now, reply to my tweet with ppm & ppb test results & will send someone to install a water filter. Creating email flint@x.com, but I'm in China so that won't be working until tomorrow."
It should be noted the Environmental Protection Agency sets contamination levels, not the Food and Drug Administration. The state of Michigan also offers free bottles of water, water filters, replacement cartridges and water-testing kits for Flint residents.
Why It's Important
Flint has dealt with contaminated water issues since April 2014. The city changed its water source at that time, after which residents were exposed to high levels of lead, which led to an outbreak of lead poisoning. It's estimated anywhere from 6,000-12,000 children were exposed to lead.
In June 2017, the Michigan Attorney General's Office announced several state officials were charged with involuntary manslaughter in connection with a Legionnaires' outbreak in the Flint area between June 2014 and November 2015 that killed at least 12 people during the Flint water crisis.
The Michigan Department of Environmental Quality in April said the water quality "has been restored," Detroit's FOX 2 WJBK reported.
"In a DEQ release, the state says that tests representing four consecutive six-month monitoring periods shows that 90 percent of the Tier I (high-risk) samples collected are at or below 4 parts per billion, which is well below the federal action level of 15 ppb," the FOX 2 report said. "Nearly two years of LCR data and thousands of other tests show that Flint's water is testing the same as or better than similar cities across the state... Residents dispute that and say they still don't think the water is safe to drink."
What's Next
Musk also offered to assist the government of Thailand when it was attempting to rescue 12 boys and their soccer coach from a cave, all of whom were eventually rescued earlier this week.
Hey #Flint friends, let's make this happen! If you're a resident dealing with contaminated water and still paying some of the highest water bills in the country (for years), nows your chance. @elonmusk, could you set up a site or database where people can sign up for this? https://t.co/sEqCZewFQU

— Jonathan Diener (@jonodiener) July 11, 2018
Musk, in a reply to a tweet from a CNET reporter, said, "Most houses in Flint have safe water, but they've lost faith in govt test results. Some houses are still outliers. Will organize a weekend in Flint to add filters to those houses with issues & hopefully fix perception of those that are actually good."
Image credit: Michael Rivera (Own work) [CC BY-SA 4.0 (http://creativecommons.org/licenses/by-sa/4.0)], via Wikimedia Commons
Posted-In: Elon Musk Flint Flint Water Crisis michiganNews Top Stories After-Hours Center Best of Benzinga
View Comments and Join the Discussion!