Helios And Matheson CEO Projects 6 Million MoviePass Subscribers In 2018, Says 12% Are 'Overusers'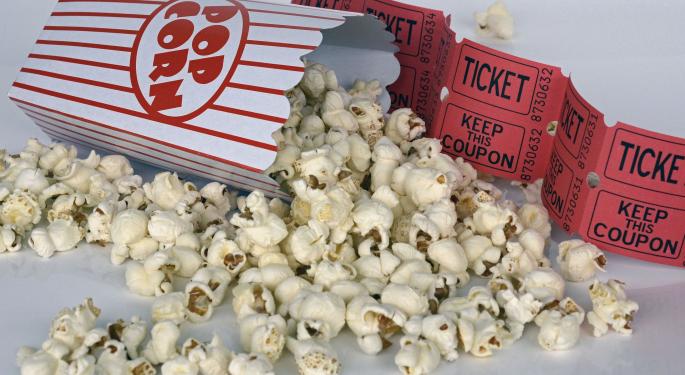 The popularity of Moviefone — a staple for moviegoers in the 1990s and of Seinfeld fame — may have waned, but MoviePass hopes to leverage the website's 6 million unique visitors per month.
What Happened
Helios and Matheson Analytics Inc (NASDAQ: HMNY) acquired Moviefone on Thursday for a total value of about $23 million from Verizon Communications Inc. (NYSE: VZ)'s Oath.
"We felt it was a great strategy for us on the advertising side and we think it is a great addition to the family," Helios and Matheson Chairman and CEO Ted Farnsworth told Benzinga. "It is another funnel to really connect with the casual moviegoer. There is only less than 10-percent overlap from a MoviePass and a Moviefone customer. They are really two different services, but they serve each other really well."
Why It's Important
MoviePass' long-term viability and profitability has been hotly contested, but Farnsworth predicts the company will be profitable by the end of 2018.
"We are thrilled with our current metrics in-house moving toward profitability, and we believe we will be profitable by the end of the year," he said. "We believe, looking at our business model after our acquisition of Moviefone, that we will be north of 6 million subscribers by the end of the year."
The company had projected in March that it would surpass 5 million subscribers by the end of 2018.
MoviePass is projected to hit $520 million in revenue in 2018, Farnsworth said. While many believe MoviePass inherently loses more money with the more subscribers it acquires, just 12 percent of its overall subscriber count is unprofitable, he said.
"Twelve percent of our subscribers are overusers, but we won't get rid of them because they are our biggest evangelists," Farnsworth said. "88 percent of our subscribers are profitable on subscriptions alone. We have literally no churn."
What's Next
The average moviegoer goes to the theater just four times per year, Farnsworth said. If the company can double consumption to eight movies per year, subscribers would still be profitable at that figure. The company can drive $6 in revenue per subscriber per month through ancillary revenues, advertising and money back from theaters, he said.
MoviePass has become the fastest-growing paid subscription service entirely through word-of-mouth since Helios and Matheson took over last year. It took the company four months to reach 1 million subscribers.
MoviePass buys 7 percent of all movie tickets, and Farnsworth said he believes within three months it will be buying 13-15 percent of all movie tickets on a weekly basis.
"When I took over MoviePass, they were paying $51 per user acquisition and now it is nothing because it all went viral. If you look at 88 percent subscribers [being] profitable, that is a massive number," he said.
Shares of Helios and Matheson are down more than 60 percent in 2018. The stock was trading down 6.25 percent at $2.70 at the time of publication Friday.
Related Links:
Helios And Matheson Buys Moviefone; Canaccord Says Deal Will Drive MoviePass Subscriptions
Posted-In: Moviefone MoviePassM&A News Top Stories Exclusives Tech Interview Best of Benzinga
View Comments and Join the Discussion!