Toyota, BMW Invest In Ann Arbor-Based Autonomous Startup May Mobility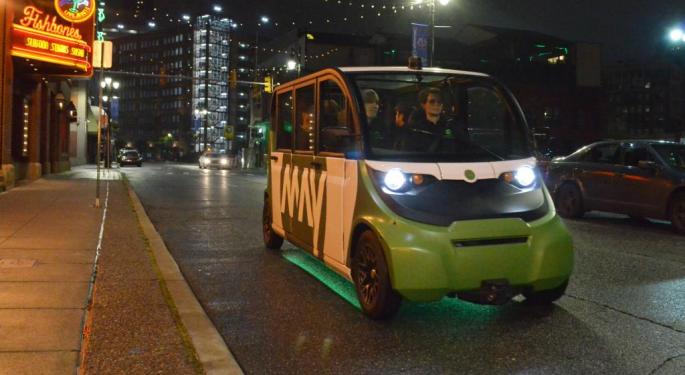 May Mobility announced Monday it closed a seed round of financing led by BMW i Ventures and Toyota Motor Corp (ADR) (NYSE: TM) AI Ventures.
The funding will support this year's launch of commercial operations and deployment of autonomous shuttles nationwide, building off a Detroit pilot program that began in October.
"Vehicles and programs of all sorts are being announced or tested and trialed, but May Mobility is actually solving today's transportation issues with self-driving vehicles on real city streets today," Uwe Higgen, managing partner at BMW i Ventures, said in a press release. "We invested in the team because they're reducing the complexity of the problem to actually deliver autonomous mobility now, instead of years from now, and the feedback loop will be invaluable to the future of the industry."
What Is May Mobility?
May Mobility, based in Ann Arbor and focused on small-scale community transportation, differentiates itself in operating both proprietary technology and services.
"We look to invest not just in the brightest ideas and teams in mobility, but in the best businesses," Jim Adler, managing director of Toyota AI Ventures, said in the release. "We love that May Mobility is actively applying great technology to improve the quality of life in communities throughout the country. But it's just as important that they're signing paying customers that prove that the unit economics work."
Maven Ventures (unaffiliated with General Motors Company (NYSE: GM)'s mobility service), SV Angel, Tandem Ventures, Trucks Ventures and YCombinator also made investments. The total raised was not disclosed.
Related Links:
6 Months In Business, Autonomous Vehicles On The Road: Meet Ann Arbor's May Mobility
US Reps Bring West Coast VCs To Detroit To Meet New Investment Opportunities
A May Mobility shuttle on Monroe Street in downtown Detroit. Photo by Dustin Blitchok.
Posted-In: AI Ventures BMW i Ventures Detroit May Mobility michiganNews Legal Startups Best of Benzinga
View Comments and Join the Discussion!