The Dell, Dell Technologies And VMWare Family Tree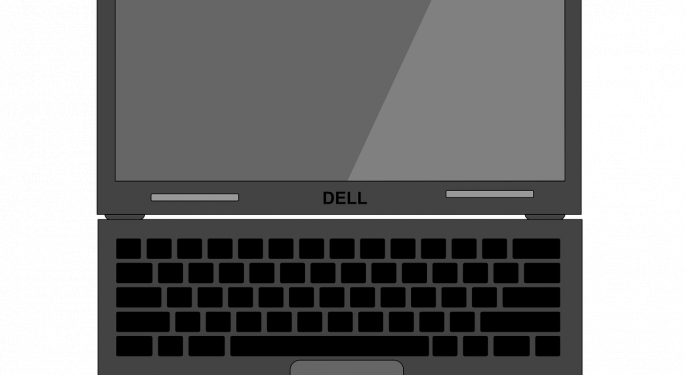 Dell confirmed in a Friday SEC filing that it's considering a reverse merger with VMware, Inc. (NYSE: VMW) or an IPO.
The first reports of the talks sent shares of VMware into a tailspin Monday. VMware stock shed 16.46 percent to $125.05 and was trading at $125.70 at the time of the publication Friday.
One way of gaining exposure to Dell to invest in Dell Technologies Inc (NYSE: DVMT). The links between Dell, Dell Technologies and VMware are a maze.
The Many Dell Businesses
Dell Technologies was born out of a merger between Dell and enterprise software and storage company EMC, which was acquired by the former in a $67-billion deal and renamed Dell EMC. The deal was closed in September 2016. Incidentally, EMC owned an 80-percent stake in VMWare, which the companies agreed to maintain as a separately traded public entity.
VMWare is a virtualization and cloud infrastructure solution provider.
According to Dell Technologies' 10-K filing, it is a strategically aligned family of businesses that brings together infrastructure from hardware to software to services — from the edge to the data center to the cloud.
Dell Technologies, as an entity, includes the businesses of Dell, with its clients solutions group; and Dell EMC, with infrastructure solutions group: VMware, Pivotal Software, RSA Information Security and Secureworks Corp (NASDAQ: SCWX).
SecureWorks, a subsidiary of Dell Technologies and a provider of intelligence-driven information security solutions focused on protecting clients from cyberattacks, offered its shares to public in an IPO in April 2016. Dell Technologies owned about 87.5 percent of SecureWorks as of Feb. 3, 2017.
See also: Who's Afraid Of The Big Bad Amazon? VMware Upgraded
Share Classes
Dell Technologies has two groups of shares, namely DHI Group common stock and Class V common stock. The DHI Group common stock includes four classes of common stock, namely Class A, B, C and D.
The Class V common stock, or tracking stock, is created to track the performance of 61 percent of Dell Technologies' economic interest in VMWare. The remaining 39 percent is held by the DHI Group.
A Brief Peek Into Dell's History
Dell was founded by Michael Dell in 1984. The company offered its shares to the public in 1988 and experienced commendable growth, especially in its PC business, in the 1990s and up until 2004, when it branched outside of its core PC business. The company took a turn for the worse in 2005 and after, when it had to contend with a slowdown in the PC market, which accounted for about two-thirds of its revenue.
Dell began to lose market share to rivals even as it was bogged down by the botched acquisition of Perot Systems, which it acquired in a bid to gain a foothold in IT services. With customers gravitating toward smartphones and tablet PCs, Dell found itself in dire straits.
Steady market share loss led the company to contemplate a going-private transaction. In 2013, Michael Dell and Silver Lake Partners took the company private in a $24.4-billion leveraged buyout.
Away from public scrutiny, the company has made some strides, having steadied its slumping PC business. Recent data from Gartner showed that Dell was the third-largest PC vendor worldwide in the fourth quarter of 2017, enjoying a 15.2-percent share after HP Inc (NYSE: HPQ)'s 22.5 percent and Lenovo Group Limited (ADR) (OTC: LNVGY)'s 22 percent.
The company has added diverse businesses to its portfolio such as storage and server infrastructure, cybersecurity products and cloud computing businesses.
Rumors Of Public Listing
Last week, Bloomberg reported that Michael Dell is contemplating taking Dell public yet again, with the rationale behind the intent being raising cash and reducing massive debt.
Dell Technologies has long-term debt amounting to $45.42 billion, according to its latest 10-Q filing.
The Bloomberg report also discussed the possibility of Dell considering an IPO of Pivotal Software, which could fetch a valuation of $5 billion to $6 billion.
Dell Technologies could also undertake a reverse merger with VMWare, allowing Dell to rejoin the markets without a formal listing.
As the company explores its options, one path to take part in Dell's possible reorganization in the short-term could be to buy into the shares of Dell Technologies. This, apart from providing a stake in the core Dell business, also provides exposure to some key tech areas.
Dell Technologies share were trading at $71.26 at the time of publication Friday, having gained about 20 percent over the past year.
Related Link:
Even After A Yearlong Run, KeyBanc Says VMware Is Attractively Valued
Posted-In: DELL Dell EMC Dell Technologies GartnerM&A News Education Trading Ideas Best of Benzinga
View Comments and Join the Discussion!