Longfin's Stock Running Wild After Blockchain Acquisition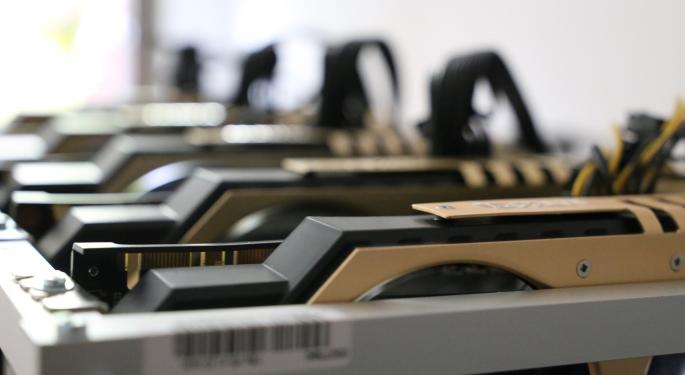 Shares of Longfin Corp (NASDAQ: LFIN) skyrocketed higher by more than 400 percent on Monday to trade above the $100 level after trading at just $5 per share on Thursday.
What You Need To Know
Longfin is a fintech company that uses artificial intelligence and machine learning technology to provide foreign exchange and finance solutions to importers, exporters and with small- and medium-sized enterprises. The company announced Friday that it acquired Ziddu.com, a blockchain-empowered solutions provider that offers microfinance lending against collateralized warehouse receipts in the form of Ziddu coins.
Ziddu coins are loosely pegged to the price of bitcoin and ethereum, two of the largest and most notable cryptocurrencies. The importers and exporters would convert offered Ziddu coins into ethereum or bitcoin and use the proceeds for their working capital needs. Once the contract is completed, importers and exporters realize their proceeds and pay back their funds through cryptocurrencies with an interest rate ranging from 12 to 48 percent.
Why It's Important
"The advent of blockchain technology has caught the imagination of the global financial services industry; blockchain is emerging as a technological revolution that is set to disrupt the financial services infrastructure," Longfin Corp. Chairman Venkat Meenavalli said in a statement. "Cryptocurrencies such as bitcoin and ethereum will act as a global financing currency to avail credit against hard currencies of many emerging markets."
What's Next?
Longfin's stock peaked at $142.82 Monday morning before moving toward the $125 level, where it found some short-term support. The level of volatility seen in the stock is consistent with the triple-digit percentage gains over a very short period of time seen in other cryptocurrency-related plays, such as Riot Blockchain Inc (NASDAQ: RIOT), another company with new cryptocurrency exposure.
Naturally, Longfin's investors are urged to exercise a degree of caution and fully understand a wave of volatility could move the stock notably in either direction in a very short time period.
Related Links:
Is Bitcoin Predictable? This AI Software Says It is
What Is A Blockchain And What Does It Do?
From 8-9 a.m. Dec. 19, Benzinga's PreMarket Prep Show will devote its entire broadcast to the fascinating new topic of cryptocurrency. The podcast will include background information and the upcoming changes in the marketplace that will have a long-term impact on bitcoin's true value.
Posted-In: Bitcoin Ethereum Fintech Ziddu CoinsM&A News Best of Benzinga
View Comments and Join the Discussion!