You Don't Say? NAFTA Risks Linger For Mexico ETF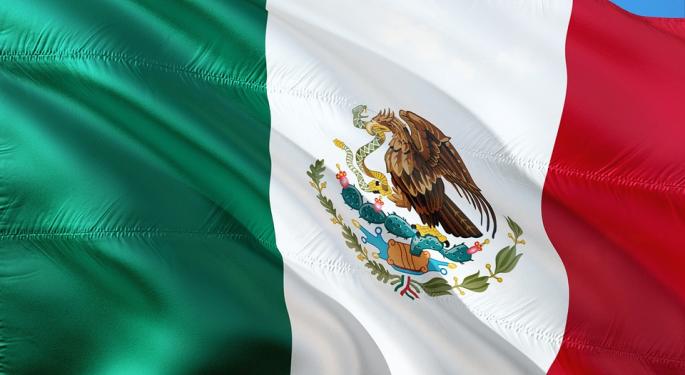 Leading up to and immediately following the 2016 U.S. presidential election, the iShares MSCI Mexico Capped ETF (NYSE: EWW) was one of the worst-performing emerging markets single-country exchange-traded funds thanks in large part to harsh anti-immigration rhetoric from President Donald Trump.
However, Mexican stocks and EWW shook that anti-Trump trade status and roared higher to start 2017. For a good part of the first three quarters of this year, EWW was outpacing the MSCI Emerging Markets Index, but that trend has been sharply reversing amid concerns regarding the North American Free Trade Agreement negotiations.
Over the past month, EWW is lower by more than 9 percent and has tumbled through its 50- and 200-day moving averages.
Heightened NAFTA Concerns
On the campaign trail, then candidate Trump was not shy about bashing NAFTA. As NAFTA talks have lingered, there is growing uncertainty in some corners regarding the Trump administration's commitment to the free trade pact with speculation rising that the U.S. could depart NAFTA.
The ongoing North American Free Trade Agreement (NAFTA) renegotiations are not likely to lead to a full abrogation of the treaty, and the final deal should not have a significant impact on Mexico's trade access to the U.S.," said Fitch Ratings. "However, the recent extension of the negotiation timeline and comments from each government following the conclusion of the fourth round of talks have highlighted growing uncertainty and risks to the treaty."
NAFTA conjecture and speculation is taking its toll on EWW. While the Mexico ETF is lower by 9.2 percent over the past month, the MSCI Emerging Markets Index is higher over that span. Over that period, EWW is easily the worst-performing single-country ETF tracking stocks in a Latin American nation.
A Big 'If'
While it remains uncertain whether or not the U.S. will withdraw from NAFTA, what is clear is that such a move would be a blow to Mexico's economy, Latin America's second-largest behind Brazil.
"If the U.S. withdrew from NAFTA, the Mexican economy would face significant uncertainty, which would likely lead to an immediate confidence shock and short-term market volatility," said Fitch. "Growth would slow through the medium term, from an already modest base, as the initial disruption would likely result in lower investment and trade dislocations with potentially sustained effects on consumer confidence.
"It would also act as a negative productivity shock affecting potential growth rates through the medium- and long-term. NAFTA abrogation would mean defaulting to World Trade Organization (WTO) rules; however, WTO rules are not as comprehensive, and tariffs could rise on certain Mexican export sectors."
Related Links:
View Comments and Join the Discussion!
Posted-In: News Short Ideas Emerging Markets Emerging Market ETFs Futures Politics Events Global Best of Benzinga