Canada To Release Reports Friday Morning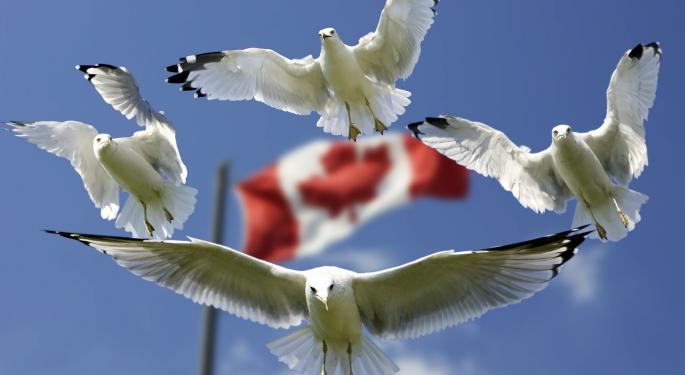 A key indicator of variances in purchasing trends and inflation is reflected in the price changes measured by the Consumer Price Index (CPI). Canada will release several versions of this report on Friday at 8:30 AM ET. These reports are from the perspective of the consumer. Being released at the same time are two forms of Canada's Retail Sales Report, which measures the change in the total value of sales at the retail level. This report gives an indication of the Canadian Economy.
With mixed forecasts, traders should consider that if the reading is higher than expected; regard it as positive or bullish for the CAD. If a lower than expected reading, consider it negative or bearish for the CAD.
This is tradeable news. Utilizing USD/CAD on Nadex, an Iron Condor strategy can be employed by simultaneously buying one spread and selling one spread. Spreads have a floor and a ceiling, marking the bottom and top of the range in a market. They can be traded long or short. The market can go past those points but there is no profit or loss beyond those points. In addition, the trade isn't closed unless exited or the time expires and the spread settles. This provides great flexibility for the trader. Risk is capped and known upfront. If the trader chooses to remain in the trade and can manage the upfront risk, it can be done without being stopped out.
Place stops for risk at a realistic 1:1 risk reward ratio. Furthermore, the ceiling of the bought spread should meet the floor of the sold spread and be where the market is trading at the time. To find the points where stops should be placed, simply double the amount of the combined profit potential for the trade.
When using an Iron Condor strategy, both sides are not expected to profit. The market can move in either direction with the highest potential profit occurring when the market settles between the two spreads. The following image shows the possible outcomes when using an Iron Condor strategy.

Apex Investing Institute offers free day trading education.
Photo credit: public domain
View Comments and Join the Discussion!
Posted-In: News Education Emerging Markets Eurozone Futures Commodities Options Forex