How Past Summer Storms Impacted Gas Prices The Following Month
Even as Texas reels under the impact of Harvey and the markets mull over the ramification of the catastrophe on the local and national economy, news of soaring gasoline prices, which rose to a two-year high, set alarm bells ringing.
RBOB, or reformulated blend stock for oxygenated blending, gasoline futures for September delivery settled Wednesday's session at $1.885, up 10.1 cents, the highest level since July 21, 2015.
The most actively traded October futures gained 3.6 cents to $1.638.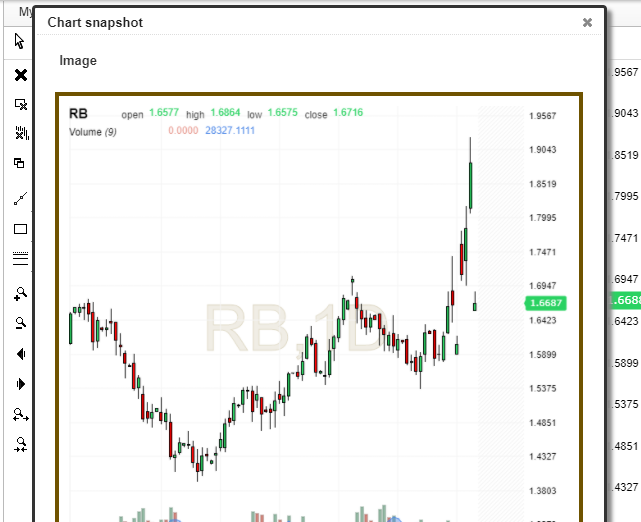 Source: Investing.com
Up And Down Anomaly
Ironically, the direction of crude oil prices and gasoline has diverged. Analysts explained the anomaly by suggesting that oil price was reacting to the weekly Petroleum Status report from the Energy Information Administration, which showed an increase in oil production.
Another logic is that as several refineries (roughly over 20 percent of the U.S. refineries) went offline, both as a precautionary measure and due to storm damage, crude oil stockpiles are expected to run high in the coming days. Gasoline is a refined form of crude oil and any reduction in refining could bloat up crude oil inventory.
Related Link: How Much Of A Spending Boost Are Cheap Gas Prices?
Retail Gas Prices React
Prices at the pump have also ticked higher, with the nationwide average unleaded gas price rising 4.7 cents to $2.451/gallon as of 3:55 a.m. Thursday, according to GasBuddy. Prices were up 10.3 cents from last week's average and 22.9 cents higher than last year's average.
The irony here is that pump prices remained non-reactive during the summer driver season this year despite the premise that surging demand during the season would drive prices higher.
To assess the impact of Harvey one month down the line, Benzinga looked at the historical reaction of gas prices to tropical storms and hurricanes. This could give a rough idea as to where gas prices headed in the near term.
For the purpose of analysis, those storms categorized 3 and higher on the Saffir-Simpson Hurricane Wind scale and those that happened after 1985 were considered. The futures data pertained to contract 1 of New York Harbor Regular Gasoline future.
Here's the list of the study universe, along with the date of closest approach and the returns over a month from the date:
Category 5
Andrew (Aug. 24, 1992): -6.2 percent.
Category 4
Hugo (Sept. 22, 1988): +9 percent.
Charley (Aug. 13, 2004): -11 percent.
Category 3
Elena (Sept. 2, 1985): +3.7 percent.
Gloria (Sept. 27, 1985): -0.61 percent.
Emily (Aug. 31, 1993): -0.4 percent.
Opal (Oct. 4, 1995): +0.6 percent.
Fran (Sept. 6, 1996): +1.5 percent.
Bret (Aug. 23, 1999):+8.3 percent.
Ivan (Sept.16, 2004): +10.1 percent.
Jeanne (Sept. 26, 2004): +5 percent.
Dennis (July 10, 2005): +7.5 percent.
Katrina (Aug. 29, 2005): +9.3 percent.
Rita (Sept. 24, 2005): -26 percent.
Wilma (Oct. 24, 2005): +10.4 percent.
From the above data, roughly one-third of the time (66 percent), gas prices move higher. The average return has been 1.4 percent.
Meanwhile LPL Research said in a report released in October 2016 historical data going back 28 years showed that WTI crude oil spot prices tended to move higher over the short-term horizon after a Category 4 or higher hurricane generated from the Atlantic ocean makes a landfall in the U.S. One month later, Cushing crude oil spot price was higher 59.6 percent of the time, with average returns of 1.1 percent.
Within six months of the catastrophes, prices were higher 63.5 percent of the time, with the average gain at 8.4 percent.
Historical data dating back to 15 years showed that natural gas spot prices were higher 58.6 percent of the time after a Category 4 or higher hurricane strikes, with the average gain at 7 percent. Five months down the line, gasoline spot prices were higher 58.6 percent of the time, with the average gain at 8.9 percent.
Though history is an indicator, what could also dictate the price move are the severity of damage and other macroeconomic variables, which dictate how soon things can return to normalcy.
_______
Image Credit: "U.S. Soldiers assigned to the Texas Army National Guard arrive in Houston to aid citizens in areas heavily flooded by the storms of Hurricane Harvey Aug. 27, 2017. (U.S. Army National Guard photo by 1st Lt. Zachary West) www.dvidshub.net" By U.S. Department of Defense Current Photos1st Lt. Zachary West/Texas Military Department - 170827-A-ZW944-024, Public Domain, via Wikimedia Commons
View Comments and Join the Discussion!
Posted-In: News Education Commodities Events Top Stories Markets Trading Ideas General Best of Benzinga